Any Woman CAN! Get This FREE Report "The Truth About Female Ejaculation"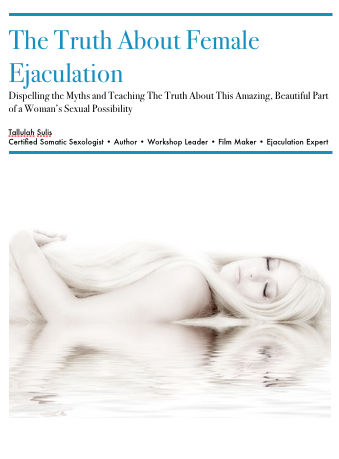 Would you like to have all the insider knowledge about the erotic secrets of Female Ejaculation? The opportunity is yours.
Female ejaculation, often called "squirting," is a natural sexual response all women have the potential to experience.
The word "squirting," though commonly used, is really a misnomer. Ejaculate can squirt, drip, gush, trickle or occur in any other number of ways.
Squirting as a word, is ultimately deceptive and further, it puts pressure on you both to have this BIG kind of happening. A woman's pleasure can come easily from just the smallest amount of ejaculate being released. And you have to learn how to prevent yourself from blocking her urethral opening so the ejaculate can squirt if it wants too.
You'll both find that over time, most of the time, a woman releases more and more fluid and she wants to have multiple, rather than just single, orgasmic releases. That's why it takes practice! Luckily, practice in this case is super fun.
Female ejaculation, is currently considered the "ultimate orgasm" by many women and their partners. Many men find it a total turn on and many women secretly crave the exquisite release that only a liquid orgasm can deliver.
There is nothing more thrilling then getting your woman to an orgasmic and juicy place.  There is nothing more thrilling than having her think of you as her Master and Sex God in bed. There is nothing more thrilling than "making her squirt" and give her a new experience that she has NEVER had before.
So help yourself to a copy of my mini-report here and get started understanding all you can about this amazing part of a couple's sensual potential.
What's Inside The FREE Report, "The Truth About Female Ejaculation?"
What Exactly IS Female Ejaculation?
Where Does It Come From And What Is The Fluid Made Of?
Why Do All Women Have The Capacity To Ejaculate?
She Might Be Ejaculating Already But Not Know It.
Understanding Detailed Female Anatomy – Your Foundation For Success
Why Does Stimulating Her G-Spot Make Her Ejaculate?
The Different Kinds of Orgasms A Woman Can Have. Do You Know Them?
Providing Encouragement For The Many Styles of Squirting
How To Get Her To Be More Orgasmic During Intercourse
Now you can download this Free Report (PDF) right to the privacy of your computer and enjoy a small preview of Female Liquid Orgasm, the first complete advanced sexual education home study program, written by a woman and expert in Female Ejaculation.
The Truth About Female Ejaculation: Dispelling the Myths and Teaching The Truth About This Amazing, Beautiful Part of a Woman's Sexual Possibility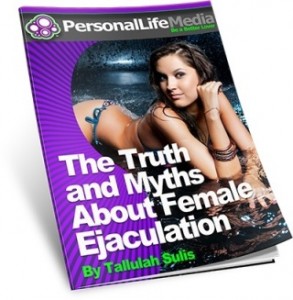 Female Ejaculation is thrilling and pleasurable, a deep release that can bring you closer together and keep her coming back for more.  Don't pass this moment by to take her to a whole new level of sensual delight.
Her pleasure is your pleasure, so the more sexually fulfilled and amazed she is with you, the more overflowing with energy and super hot she will be for you.
It pays to know as much as you can about woman's anatomy, her body's ability to experience pleasure and to have a deep understanding of how to approach her psychologically so she feels loved, adored and safe, not manipulated.
With this information, you can literally turn her on to experiences she didn't think were possible.  Making her squirt is one of those unique things that will catapult you into a whole new sexual dimension with her.
I invite you to read through this Free Report and see if I have wet your appetite to learn more and advance your skills.
Prepare To Rock Her World Forever!
If you like what you read, consider getting yourself monthly or lifetime access to the Female Liquid Orgasm membership site that includes audio, video and eBooks with techniques and full explanations that will give you all the tools you need to connect with her mind, body and spirit in pleasure and connection.

With love,
Tallulah Sulis