What Is Hot: The Element of Risk and Adventure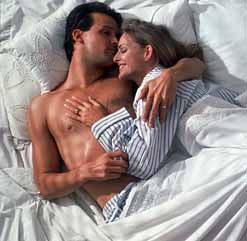 Let me share an important insight about peak sensual experiences, and a few tips with you.
YOUR BEST SEXUAL EXPERIENCE
I want you to think back to a sexual experience that stands out as exceptional and incredibly hot.
Anything come to mind?
Was it the fact that it was so naughty?
Was it a first-time experience?
Was it with someone whom you loved deeply?
Was it out of character?
Was there an element of risk and adventure?
If you understand your peak sexual experiences and why they stand out as such, then you can actively choose to recreate those experiences or variations of them.
Do you know what your lover's peak sexual experiences have been?
RECREATING YOUR BEST EXPERIENCE
I want you to ask your lover to imagine a scene that incorporates a couple of their peak sexual experiences. And then do the same yourself. Hold those thoughts to yourself at first.
Next I will show you how you can take your turn on and go even further with it than you ever thought possible. You can always make your sensuality a little more juicy and vibrant.
OK, Did you both imagine a scene that incorporates a couple of peak sexual experiences?
Did you know that one of the number one first-time ejaculation experiences women have are a result of being really turned on and aroused?
HOW TO SURRENDER AND RELEASE
Women tell me that the more turned on and open, the less inhibited they are helps them surrender and release any control and armoring they have.
They also tell me that fantasy experiences can take them out of their head, totally into their body and their experience.
"Fabio, take me!  I'm yours!"
What a concept right?  What could be hotter than a woman completely surrendering herself fully to passion and ecstasy?
What would it take to catapult YOUR sex life into a new direction — one in which you were able to truly let go deeper than you ever had before?
Yes, this is possible for anyone who is willing to dream up their fantasies.
The process of learning to ejaculate encourages women to attain a whole new level of letting go and surrender.
THE SHEER JOY OF EJACULATION
Whether you and your lover have experienced the sheer joy of female ejaculation or you are still in the fantasy stage, just by reading this today, you are on your path to find her divine nectar and for you to support her and witness her experiencing this deep, pleasurable release that is a part of your birthright as man and woman together. Congratulations! Welcome on this road, fellow journeyman. I'm glad you're here. Let's take another step forward together. Hold my hand, I'll guide you.
Did you know that I have created a Mind/Body Check In Routine you'll use to get started on your journey? Yes, it's just one of the many unique features of my teaching style.
Note: If you have any challenges – please write to me and let's remove any obstacles you might have – [email protected] And if you have a success story, where you put your new knowledge to work – please write me and tell me the story – so I can share it with others to show them that yes, it is possible to go from learning to doing!
With love,
Tallulah Sulis