Why I Find Threesomes Empowering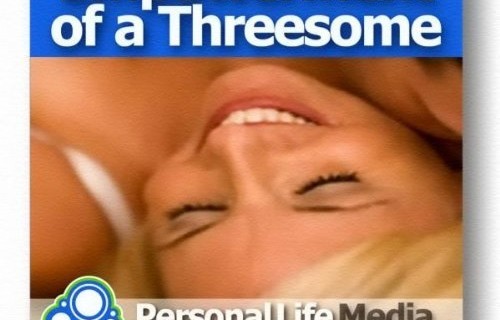 I have been having a number of threesomes. It started out with one lover who hubby and I made love with five times in a year.
Each time, it got better and better together and I loved being with two men at the same time so much!
Here's why:
My empowerment.
My…
SURRENDER:
to trust,
to self-confidence,
to my humanity.
I am empowered because…
I pushed myself throughout our adventure together to be at the outer edges of my experience with my turn-on. I not only went, but stayed for long periods of time, where I had never been.
I am empowered because…
When my lover pinned my arms above my head, draped his torso over mine, and looked me in the eyes and held me pinned to the bed as my husband was fucking me so perfectly, my pussy exploding in sensation — he locked eyes with me and I communicated my sensations to him with minute, fleeting expressions of my orgasm.
He held me there. Watched me come, and come again. Stayed present to my experience. Loved the beauty of my orgasm face. Wanted nothing more than to be there with me. That was enough for him in that moment. And it made me feel seen, whole, a beautiful, sexy goddess.
I felt empowered that I had arranged the whole weekend.
I was offered the all expenses paid trip to Vegas for business because I'm appealing and smart. I thought up the idea of the weekend fuck-fest. I invited this drop-dead gorgeous man, 13 years my junior, who looks more beautiful than the handsomest of movie stars and models. [Who fucks so many women, he has champion moves (more on those) and his pick of the beauties.] I engendered my husband's buy in. More than that, I fanned the flames of his excitement, his enthusiasm. I finagled the upgrade to a suite. I booked lover his plane fare.
I fucking MADE it happen. (You GO, girl!)
And it was beyond hot. Beyond great. Beyond beautiful. Beyond fucking-hotter-than-shit fantastic.
That's empowering.
I was empowered by my perfect, sexy outfits too.
I'm simply "unwrappable."
And they did, with appreciation, lust and respect for all of the woman I am.
I was empowered by the belief that I had chosen my men wisely.
Both of these men love what they call, "slutty women."  What they mean is a woman who is confident in her appetite for getting off with them. A woman who wants to come. Who loves to get fucked and suck their cock. Really loves it.
Oh, they can tell.
They are loving being a threesome, in public, with me.
I feel so empowered.  I am a gorgeous woman, with two hot lovers, and you know it. Fuck yeah!
Here's another thing that empowered me.
Cock switching.
I handle myself with grace and sexiness.
I am empowered by my ability to so easily do this cock swapping.
Here's another thing I did well. Managed my attention.
You can imagine bringing another, younger, gorgeous man into your marriage bed (well, really a sexy Vegas hotel bed) might push the edges of your husband, right?
Here's what I did.
I balanced them perfectly.
I kept my attention on them individually, together and as a threesome. At one point, my husband rubbed lube on my lover's cock for him as he was fucking me and said, "wow, I never touched a guys cock before, that felt nice."
The way that I was able to make them both feel important and seen and appreciated and connected in, while giving both of them unique attention made me very proud of myself.
It was empowering to know that my man was willing to be in service to us, because he loves me so much, he wanted me to have every moment of pure pleasure.
All three of us felt included. Not just because of what I did, but because I chose wisely. I chose men who were not homophobic. Who encouraged my total letting go. Who provided the masculinity to kindle my feminine Kundalini energy. Who communicated with me and each other throughout the weekend. Who developed a friendship with each other in the process of pleasuring me and pleasing themselves and each other. They created a bond together, separate from mine, supporting each other, working together. Even in the week leading up to the rendezvous, they were texting each other ideas, positions, ways to nurture my turn-on.  How great is my husband? How great is my lover?
I felt empowered by their masculinity.
I loved the dirty talk. Having my arms pinned. Getting covered by their bodies, their balls in my face. Getting my legs pinned back and fucked by both of them.
Oh my god, at one point, they were literally passing me back and forth. Shit, my pussy is getting turned on right now writing this. One would fuck me, then the other would lift my ass up and scoot it around in front of him and then he would fuck me. Back and forth.
They passed me back and forth. Shit. So fucking hot.
Sure, we'd break for a spell. But the desire went on for hours and hours and literally days.
Damn, I'm good. That's empowering too.
In my everyday life, I'm a kick ass woman.
But to get passed back and forth between two men who are LOVING fucking me. Well, that is more empowering than any job, accomplishment, what ever. It's better than anything.
It's pure beauty, desire, appreciation, acceptance, love, sex, opening.
I am fully revealed.