Spank Me, Blindfold Me, Give Me Rolling Orgasms [Free Webinar]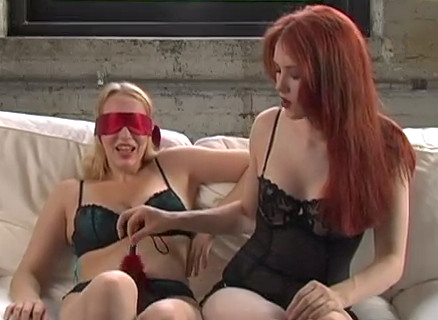 I used to think that vibrators were "cheating."
Now I know they are additive to my orgasmic smorgasbord.
I used to believe that getting spanked during sex was demeaning for a woman.
When my man gives me a coupla sweet whacks during a hot lovemaking session now I get even more turned on.  HOT!
Formerly I would not have been able to let go and surrender to a lover's ministrations while being blindfolded.

These days, I keep a lavender scented, satin "eye mask" on my bedside table  – a gift from hubby that I love to put on when he's giving me exquisite expanded orgasms so I can really feel them and ride that wave of ecstasy.
You might think your woman would kill you if you smacked her behind or blindfolded her.
She won't… if you go alpha male on her with some whimsy and bravado. (Maybe start with a feather tickler?)
Women love to be dominated in the bedroom.  We want our big man to make us feel like a sexy little doll.
If you pin her arms down right as she's about to orgasm, will it send her over the edge?
What new ideas have you offered her lately?
What surprises have you delighted her with?
We women, even modest ones, LOVE VARIETY.
Want some great ideas for giving her more mind-blowing orgasms?
Watch Sara and Shea demonstrate some new ways to make your woman come and come for you on the webinar tonight called, "How To Give Any Woman Rolling Orgasms."
If you register now, you'll get a replay link to watch anytime you get the urge.
It's free.
And fun.
Rolling Orgasms Webinar <=== Register Now!
Tickle Her Fancy!
Get our FREE eBook to learn more how to give women orgasms.