Moving Sale Story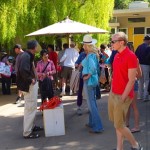 Tim and I were sitting in our driveway in lawn chairs drinking a beer and looking at all the beloved possessions
we were about to sell the next morning at our moving sale…
and we wondered, "How the heck did we amass all this stuff!?!"
I'll be 51 this month and my interests have changed so much in the last twenty years since we moved here.
I don't want a big house. I don't want a lot of stuff. I don't want an executive job and lifestyle.
I want a little place in a great town near my friends and to cook for and love my family. I want my child to thrive. I want to run Personal Life Media with Tim to help couples have passionate intimacy.
So we are downsizing, moving into a house two thirds smaller and relocating with our daughter 50 miles north
to a new high school with programs well-suited to her talents.
It feels exciting.
It feels scary.
When you're in a big transition, the time between the ending of the old way and the beginning of the new way can feel uncertain.
What feels good is taking massive action.
The Law of Action.
And what makes uncertainty feel exciting instead of scary is understanding what you really want.
What do you want?
The way to know what you want is to use visualization or 'futuring.'
Do you know about visualization?
One of the reasons I've been personally and professionally successful in my life is because I practiced visualizing
and have gotten good at taking action.
My parents were teachers. By August they'd be out of money and we'd be eating mostly from our home garden.
I put myself through night school to get my college degree.
I'm a scrappy start up kinda gal who never got anything given to her.
I've earned everything I've achieved, with the support of my friends' and family's love and belief in me.
And the techniques I've successfully used to reach my goals have been:
- Tenacity. Never giving up.
- Visualizing what I want my future to be.
- Taking massive action to move toward my vision.
I've found an online program that will show you how to visualize your future and leverage the "law of action"
for 10X less than anyone else charges for the same basic material and you should watch this video:
The Miracle Mind Method <=== Watch this video
Check it out and see for yourself how you can change your mind to change your life.
I have reviewed Chris Cains' program and believe it's an excellent companion for growth and achieving the results
you want in your sex life and your whole life.
Let me know what you think.
P.S. This video presentation is free and Chris reveals the secret to getting the life you want.
With love,
Susan Bratton