Product Review: "7 Day Orgasm" by Gabrielle Moore 'Spice Up Your Sex Life'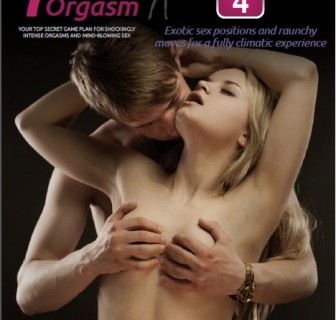 As a registered nurse and customer service representative at Personal Life Media, I have encountered a lot of men asking how to fully satisfy their women. For the last year I've been counseling our customer about areas like: "How would they know if their partner is faking orgasm?" "How can he give her multiple orgasms?" "What sexual positions are good for various situation."  And although we have many blog articles that answer these questions, I am thankful that all the answers men are looking for can now be found in one single book.

I was skeptical at first when I heard about "7 Day Orgasm" by Gabrielle Moore, but after having reviewed the entire program over the last week, I am pleased to report that it gives you all the information and blow-by-blow details that will spice up your sex life!
Gabrielle Moore created this program for couples lacking that "sexual spark." She divided it into 7 chapters, one per each day of the week, all focusing on female orgasm.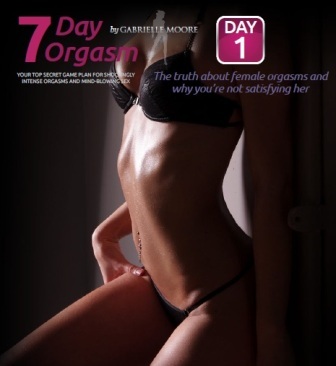 Discover New Strategies Every Day Of The Week
Day 1 tackles the fears that stop you from giving her orgasms, and the secret about how a woman's orgasm can be fully achieved.
Day 2 focuses on female anatomy and the pleasure zones of the woman's body. It also gives you insights from real women explaining the techniques they use to reach their orgasms.
Day 3 discusses her sexual fears and how to build the emotional connection between you and your woman.
Day 4 is where she teaches you various sexual positions for a fully climactic experience.
Day 5 brings the heart and body connection and explains some Tantric Sex basics.
Day 6 is all about Gabrielle's new term she coined called a "Tri-Gasm."
Day 7 explains strategies for lasting longer in bed.
What I Liked Most About 7-Day Orgasm

I like that this book is packed with all the information that you need to know about female orgasm. Gabrielle didn't generalize women, as each female is different from the other, and that she provided lots of tips and tricks that men really needed to know about how to give earth-shattering orgasms. I also love that she got real women talking about how they achieved their orgasm, again, emphasizing the fact that women are different from one another.
She also tackled the psychological side of giving orgasms, and how to boost the connection between partners. We all know that a lot of marriages don't work because of not being sexually satisfied, and reading this book gives you helpful tips on how to make love with your partner, not just have plain casual sex between strangers.
The part where Gabrielle tackled about the female anatomy and pleasure zones (Day 2) are also helpful for men that are open to new ways to touch and satisfy a woman. The descriptions are as easy as they can get, and the techniques are really precise.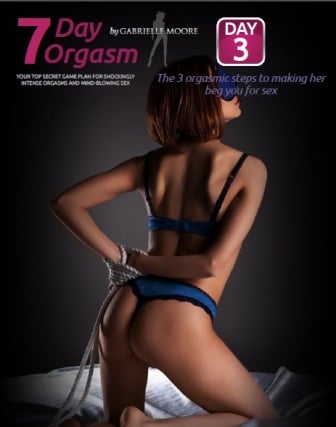 What I Didn't Like About 7-Day Orgasm
In all honesty, the chapters are quite lengthy but it is really packed with information. I don't think that there's something that I didn't like about this book. At a female standpoint, it is nice to know that someone (Gabrielle) collated all the necessary data in one single book that teaches men how to fully satisfy their woman.
If you are looking for a resource material on how to make your woman have satisfying climaxes, then this is the perfect book for you. I suggest that after reading and practicing this, try Expand Her Orgasm Tonight's 21-day program as this course provides you with more  advanced sensual practices for holding your woman in an extended orgasmic state. 7-Day Orgasm is also a great precursor to Female Liquid Orgasm, our program about how to give her female ejaculatory orgasms.
No matter what, there's information available for you to become a better lover and sexually satisfy your women to new levels of pleasure.
This review is by Maica, Customer Service Representative and Registered Nurse at Personal Life Media, Inc.
With love,
Sloane Fox
Get our FREE eBook now to learn more how spice up your sex life.