What's Your Score? [Lover's Quiz]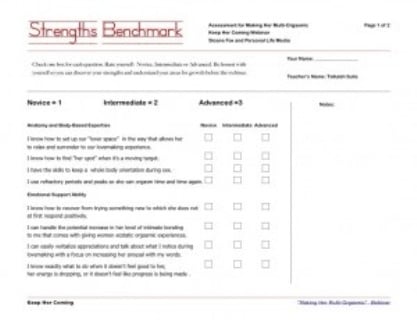 Sweetcakes, please take a minute right now and Download this free quiz and score your sexual skill levels for  "Making Her Multi-Orgasmic." (I'll email it when you register for the webinar.)
Give yourself 1 point for Novice,
2 points for Intermediate and 3 points for each Advanced checkmark.
Score your self in three areas of prowess:
– Anatomy and Body-Based Expertise
– Emotional Intelligence
– Skills and Techniques
Tally your score — before and then after the webinar — to appreciate how much immediate progress you made.
If you can't make my live webinar, a replay link will be emailed.
Add to your existing strengths regularly to…
Note from Suz: Please take our 3-minute survey.

What new content do you want next?