Winner of "Beds I'd Like To Have Sex In"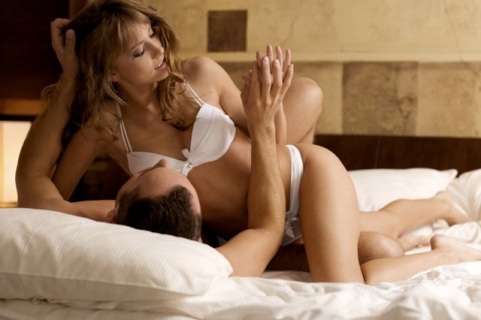 Twiddle her nipples and nubbins with some slippery oil as you watch these Steamy Sex Ed DVD's in bed together.
Bob's Bed is the winner. There's no other bed in the whole world as dialed in for passion as Bob's bed. And that includes John Lennon and Yoko Ono's famous Peace Bed, Marie Antoinette's crowned bed in the Palace at Versailles, the legendary heart shaped honeymoon suite beds of Vegas and the bejeweled silk Burj Al Arab bed in Dubai.
Bob's Bed reigns supreme in the category of "Beds I'd Like To Have Sex In."
Here's why…
When you enter his bedroom, the bed takes up nearly the entire room. Bob's intentions are crystal clear.
When you climb inside and settle in the generous pile of pillows and feel the softness of the plum-colored sheets, you wonder how often the Chinese food delivery guy makes house calls.
It's a substantial canopy waterbed that looks like a little wooden house. Three feet above you is a mirror so you can watch yourselves make love. Pink rope lights line the inside perimeter casting a glow that makes women feel beautiful.
Taking it all in you see some sturdy webbed wrist restraints with soft leopard fabric covers tucked up in the rafters of the canopy and robust teak handles Bob repurposed from a boat bolted onto the inside of the canopy. It's nice to have handles in case his lady needs to hold on tight while he's giving her the ride of her life.
Surround sound speakers are mounted in all four corners. Right at your feet is a flat screen TV and a center speaker suspended on a wall mount descending from the top of the canopy down at the end near your feet.
You have no doubt what kind of movies get watched on that screen.
Bob's Bed is FUN.
It's sexy.
It's luxurious.
It's downright decadent.
What is Bob watching in his bed?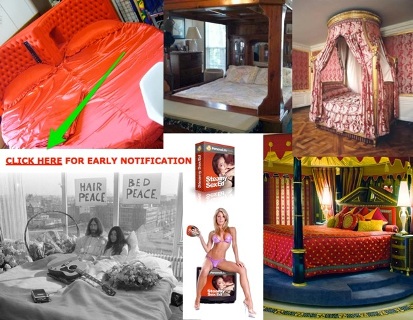 You guessed it!
The Steamy Sex Ed DVD Collection.<=== Get 24 Hour Advanced Access
Bob knows the reason women love to visit his bed is not for the bed, it's Bob they desire.
They love to be in bed with Bob because he never stops learning new techniques.
Bob is a lifelong learner of new sexual methods.
He leads his ladies on erotic adventures where they can simply relax into his arms and let him bring on the pleasure.
His lovers trust him to know what he's doing.
The Steamy Sex Ed Collection is our first ever offering of lovemaking videos you can have shipped to your home to watch on your television.
These physical DVD's will be available starting on November 15th and we will sell them until our first printing is gone. It's a four day sale with a special discount.
The cart closes November 18th, but I believe we will likely sell out the very first day we put them on sale.
The Collection will sell out early because nearly a thousand of you are already on the Early Notification list to get one day advanced access on November 14th.
You know what else is interesting?
Most of you are men, but I am seeing a VERY HIGH number of women on the Early Notification list. That's because Steamy Sex Ed was designed to be watched with your woman.
Sure, you can watch it alone and learn tons of new techniques. But it's even better when you're twiddling your lady's nipples and nubbins with some slippery oil while you watch together.
The 8 DVD's show beautiful couples making love on fancy sets your lady will appreciate.
There are oral sex, intercourse, genital massage and backdoor pleasuring techniques demonstrated. We will reveal more detail leading up to the opening day on November 15th.
But if you want to get a 24 hour leg up on others less organized, sign up for our Early Notification so you get in first.
Stack The Deck In Your Favor <=== Early Notification Gets You 24 Hour FIRST DIBS
Slide It In And Snuggle!
And, I have sizzle reel coming so you can see exactly how steamy and dreamy the cinematography is on this collection. Subscribe to our emails for some very titillating video.