Listen For Free – The Answers To Your Sex Questions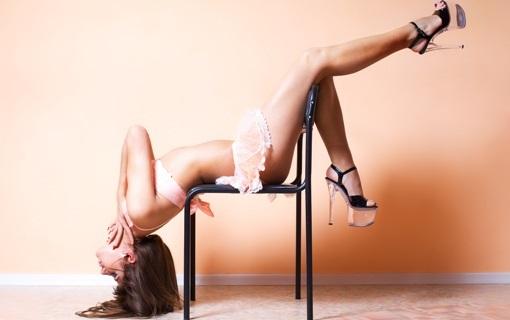 News Flash: There's growing evidence that some women are neurally wired more for vaginal orgasms, others more for clitoral orgasms. As well, some women have more orgasmic sensation than others in their perineal area which is between the walls of the rectum and vagina.
Men, have you noticed that certain techniques you use on one woman don't necessarily work as well on a different lover?
Women, this may explain why one man's "moves" between the sheets get you off so much better than another guy…
There's growing evidence that some women are neurally wired to feel one kind of O more than another. If she's not "feeling it," here's one possible reason why!
If you or your partner have ANY trouble feeling sensation in any area of her girlie parts, you must read this article.
SOME WOMEN WIRED MORE FOR VAGINAL ORGASMS <=== Read Full Article
This is breakthrough information about the pudendal nerve bundle with a very helpful picture.
Please post a comment on the blog, will you, Honey? We love your feedback and ideas.
Also, Susan was interviewed by Ellen Eatough the creator of the Music for Better Sex. I've been listening to Ellen's CDs while hubby makes love to me and it sends me into the most erotic trance!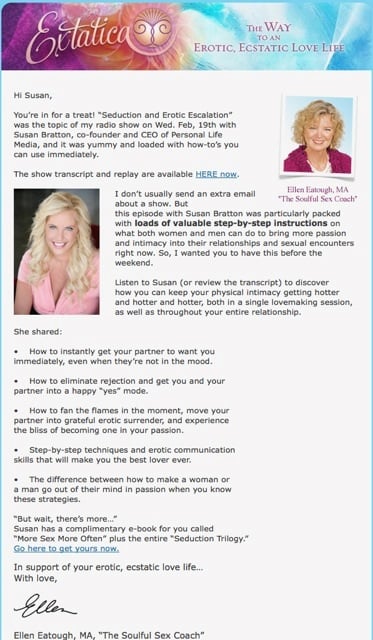 Anyway, Ellen and Susan talked about Erotic Escalation – how to make your sex session hotter and hotter throughout the whole experience.
Find out:
- How to instantly get your partner to want you immediately, even when they're not in the mood.
- How to fan the flames in the moment, move your partner into grateful erotic surrender, and experience the bliss of becoming one in your passion.
- Step-by-step techniques and erotic communication skills that will make you the best lover ever.
- The difference between how to make a woman or a man go out of their mind in passion when you know these strategies.
If you have a partner, you'll want to listen to this show with them. It may just provide the breakthrough you need to take your sex life to the next level and beyond!
You can listen to the replay here:
Let me know!