How To Overcome Performance Anxiety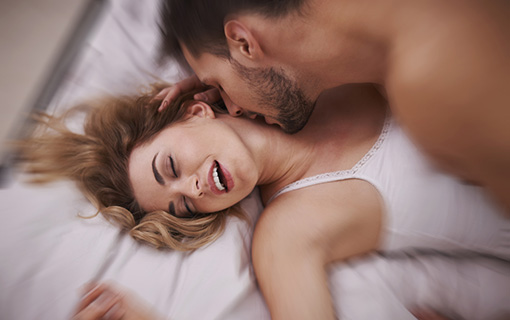 As a sexpert and a woman, I have a ton of compassion for all that men have to go through to have really good sex. It's tough being a guy!
That's why I wasn't surprised when I got this answer from my close friend Jim Benson about the anxious thoughts and feelings that men get prior to sex.
I asked, "Jim, what percentage of men would you say have experienced performance anxiety in their sex lives?"
His answer? "Very close to 100%." (I was guessing over 90%)
Just say "No" to anxiety!
So that means if you've ever had that sinking feeling in the pit of your stomach prior to sex, knowing that you might not be able to deliver the goods, you're in good company. You're part of the 100%!
Or if you've ever been uncomfortable talking about a sexual issue with a partner….
Or if you've obsessed about the worst possible outcome from a sexual experience….
Or if you've avoided sex altogether because you just don't want to deal with the anxiety that it brings up….
If you can say "yes" to any of these, you're part of the 100% of men who have experienced performance anxiety at one time or another.
And whether you only experience it occasionally or it's your constant, unwanted companion, performance anxiety is of ZERO help to you in the bedroom.
Jim is THE MAN when it comes to helping guys break out of their self-induced sexual challenges. (Yes, most of the time performance anxiety is something you're doing to yourself — but you don't know how to stop it!)
He's an international sexuality trainer who has helped thousands of men experience greater freedom and pleasure in the bedroom. When it comes to working with men's core sexual issues, there's no coach I trust more than Jim.
He's got a 3-step system to help men take the "performance" and "anxiety" out of the bedroom. And he's offering these critical tools in a free webinar next week.
Jim's webinars are always a ton of fun. He teaches from the heart and shares very practical, effective tools. I know you'll really enjoy this event.
A personal note from Jim:
"In this webinar, I'm not going to tell you to change your diet, go to yoga class or reduce the stress factors in your life. These things can help, but a lifestyle change is only going to get you 10% of the way there."

"I WILL be explaining to you exactly what to do the moment when performance anxiety strikes. And what I've seen personally and in my work with thousands of men is that my approach works. It gets you out of anxiety and into pleasure, connection, and the orgasmic bliss you want."
I just got off a call with Jim a few minutes ago and he says the webinar can only hold a hundred folks. And there won't be a replay, so you have to register to join LIVE.