How To Have An Amazing Sexual Chemistry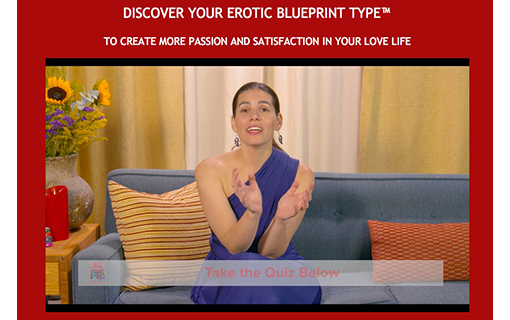 What does it mean when a man says that our chemistry does not encounter sex? Otherwise he is interested in me. This drives me to tears and despair …. is there any hope?" — Name Withheld
Couples all over the world are reporting dissatisfaction from their sex lives. Pleasure artist and somatic sexologist claims it's because they don't know their Erotic Blueprint Types.
I often get emails from couples who claim their "sex life sucks." Or from single guys who want to know how to blow her mind on their first sex date… Or from single women who want the guy they sleep with to really think they are SUPER SEXY!
I know how you feel.
My husband and I didn't always have the kind of passion and devotion for each other we have now. It used to be really REALLY bad.
He was touching me the way he wanted me to touch him…. And suggesting things that didn't appeal to me. Until we figured out through trial and error how to give each other the kind of sexual pleasure each desired. And that took us YEARS. But you can find out right now what kind of Erotic Blueprint you are… and what your partner is if you have one…
Let me explain…
DISCOVER YOUR EROTIC TYPE
My close friend, Jaiya, bestselling author, somatic sexologist, and master of the science of seduction, attraction, arousal and satisfaction, says there are 5 Erotic Blueprint Types. These are:
Energetic
Sensual
Sexual
Kinky
Shape Shifter
Each Erotic Blueprint Type has different preferences when it comes to the way they receive erotic pleasure.
For example, if you're a "Sensual" type, that means you prefer to be pleasured by your lover with sensual touches, massages, long strokes, slow skin-to-skin lovemaking…
And your lover is the "Kinky" type, the kind who prefers dominating (or being dominated), role-playing, etc…
You need to seduce and make love to them in a certain way that aligns with their Erotic Blueprint Type.
Because if you don't, they're not going to feel as much pleasure from whatever you're doing.
Even if you're giving your lover the most erotic, most orgasm-inducing technique known to man, and it's not aligned with their Erotic Blueprint Type, then they're not going to enjoy it.
If I were you, I'd take this quiz right now.
I'd even ask my lover to take it as well. That way, you'll both know each other's erotic preferences.
And this paves the way for a more fulfilling, sexual relationship.
Hope this helps immaculately.
If you have our bestselling program, the Steamy Sex Ed® Video Collection, you'll recognize Jaiya as one of the beautiful ladies in it. She produced the program as well as performed in some of the videos. She's been helping people all over the world get in touch with the more sensual, erotic aspect of relationships for over 20 years. She knows her stuff.
<=== Find Out Yours And Your Lover's Erotic Blueprint Type