The Art of Love (Special Access Link)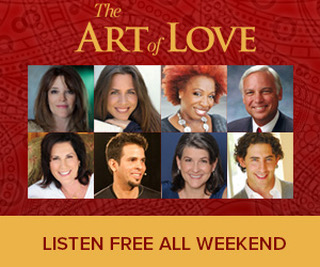 How would you like to be in a room with 35 experts in love and relationships?
No doubt you'll hear some amazing stories and learn infinitely valuable advice you can use to find love… or to strengthen the loving relationship that you already have.
Thing is, you don't usually get in a room with that kind of positive energy without costing you an arm and a leg… until now.
For the first time in a very long time, and for this Valentine's Week ONLY, you're invited to join 35 scientists, experts and love geniuses as they share proven tips and strategies in the matters of love, life, intimacy, passion and connection.
48 hours of complete access to The Art of Love at NO CHARGE.
UNLIMITED STREAMING FOR 48 HOURS
My gorgeous and amazing friends; bestselling author Arielle Ford and Feminine Power founder Claire Zammit are offering their Art of Love Relationship Series online at NO CHARGE.
You'll get access to full seminars with some of the world's leading love experts like Marianne Williamson, Deepak Chopra, Alison Armstrong, Lisa Nichols, Evan Marc Katz, Jack Canfield, Nick Ortner, Otto and Susie Collins, Dr. Helen Fisher, Mama Gena, Eben Pagan and so many more
Get FULL ACCESS for the entire weekend at no cost right here >>>
According to Arielle and Claire, most relationships fail because of the little untreated and unattended wounds that grow into dissatisfaction, unhappiness and aloofness from your partner.
These include:
Financial challenges and changing power roles
Sensuality, passion and sex
Spirituality, inner growth and walking different paths
Remaining partners while parenting
Conflict resolution and maintaining positive communication
Discover how to bring out the very best of your relationship with topics like:
How to get what you want from your partner (without begging!)
How to turn life stressors into joyful adventures
"Enlightened" ways to fight so that instead of destroying your relationship, it makes it even stronger
How to strengthen your relationship and protect it from fears, grief and trauma
And even how to deal with infidelity, betrayal and role-swapping
This is one of their premium programs, with hours and hours of valuable content that you won't find anywhere else.
And they're letting you in at no cost.
The only way this would get better is if they invite Sloane, Dr. Patti, Tallulah and myself as speakers… but then they'd have to change their event to "Art of Lovemaking." *WINK