100 Hottest Women Of All Time

Tomorrow's the BIG day!
I'm doing a LIVE online event about how to marry a woman from another country without getting your heart and bank account ripped off.
Have you signed up to join the workshop with Mark Edward Davis and myself called, 3 Lies About Russian Brides?
I really, really want you to sign up to join us.  It's totally FREE!
If you're interested in seeing what it takes to meet and even MARRY a gorgeous, exotic beauty from another country, you'll want to join us.
Click Here To Save Your Spot For FREE ⇐ 3 Lies About Russian Brides (And How To Meet, Date, And Marry An International Woman)
EXOTIC LOVE
What's so great about Russian women?
Let's take one famous Ukrainian woman you probably know as an example.
Have you heard of Mila Kunis, the actress?
She's a total stunner! Even women want to date her.
And why not? GQ magazine named her the "Knockout of the Year" in 2011.
On the same year, Men's Health magazine put her in their "100 Hottest Women Of All Time" list.
And in 2013, she was named "The Sexiest Woman In The World" on FHM.
She has a kind of beauty you don't see often here in the USA.  

On the workshop we will explain why there's a perfect storm of beauty in certain places in the world. And why these beauties want to meet a guy like you.
Imagine having your pick of some of the fairest, most eligible, and most earnest women in Ukraine, Latin America, and Asia.
Where the women are also eager to meet, date, and marry you.
Forget the pickup lines, attraction strategies, dating tricks, and approaches.
No more dealing with a woman's cold shit tests.
These women want to meet and marry a Western man.
Someone like you.
It's like all the heavy lifting has been done and taken care of.
And all you have to do is show up as yourself, and be your absolute best self.
That's what's in store for you tomorrow.
Click Here To Claim Your Spot For FREE ⇐ She's Waiting For You
If you miss this, the love of your life might end up with someone else.
Mark's company, Dream Connections, has a stunning record of over 200 successful marriages, an 80% success rate, and zero divorces to this day.
I know him personally and I'm putting my reputation behind his process for helping average guys meet amazing, loving international wives.
Click Here To Register ⇐ This Is Going To Be Fun!
Watch the event from your computer, not your phone.  
Here is Mark's team getting ready the night before a Meet & Greet. He just sent this to me this week.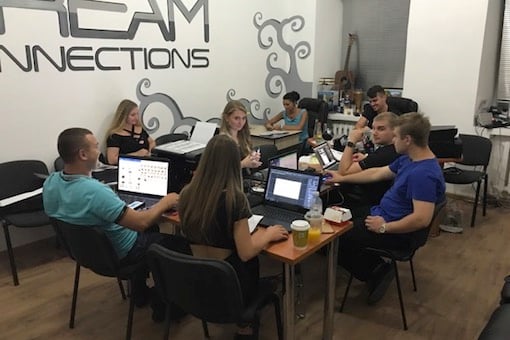 They really take great care of the men and women involved in this fun and exciting adventure!