What NOT To Do: Marco's Big Offer Backfired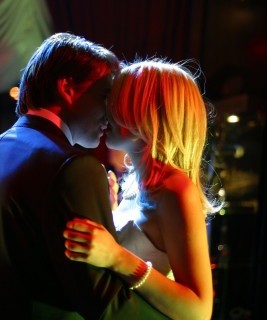 "Oh, Slap!"
At the college fraternity party, Marco got a chance to have a slow dance with Cindy.
He was infatuated with her and excited to get close to her. Halfway through the dance, he whispered in her ear, "How'd you like to get your pussy ate?"
Cindy's eyes flew wide open, her jaw dropped, she leaned back and slapped Marco hard, right in face and walked away in disgust, never to look at him again.
Dramatic? Sure. But it's a great illustration of how important it is to "right size" your offers.
Men, you have big appetites for sex. So do we, as women, but that kind of big, direct offer is the wrong approach. Especially for a woman who is tentative about her turn on or not as "into sex" as you'd like her to be.
Small offers. The first of the four keys to seduction, are imperative. To get a string of "Yeses," you must learn how to make a lot of small offers in a menu format.
Dr. Patti taught me this in her Seduce Her Tonight eBook.
There's an art to running menus that get enthusiastic yeses. It's powerful and effective when you know just how to do it.
You can unlock even a shut-down woman with this technique. So imagine how well it will work after a month or so of getting good at it!?!
Read more how to seduce a woman, download our free eBook now!