Help Her Achieve Her First Squirting Orgasm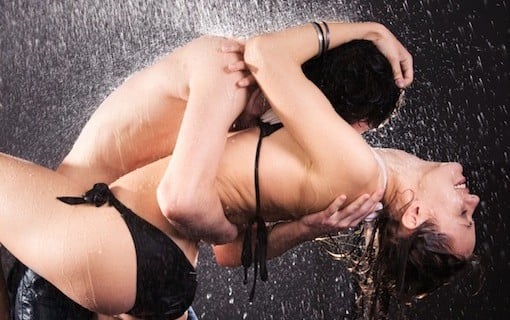 "POW! Orgasm hit, then large bursts of warm liquid exited uncontrollably and pulsed out."
Here's a sexy letter from "One Pop Laura" about how she went from "one clitoral orgasm and done" to having her first of many ejaculatory orgasms. This is so exciting!!!!
"Well OMG… I'm 52 years young and had my first gushing experience ever on New Year Day!

I was quite relaxed having flown in from a vacation and went directly to my lover's house for the evening. He's got incredible latin passion and we have been together for only 3 months.

At the beginning he could sense that I was too preoccupied with still being a "good girl" so I asked him to help me seek my inner goddess. He generously spent lots of time down there each week and always believed that I could squirt if I could just let go…

His nickname for me was "one pop" because I was content with one good clitoral orgasm then ready for sleep. He then showed me how to have internal orgasms, lots of those! Game on!!!

So how this occurred for me was on my back, lots of foreplay with tongue and fingers. I felt I needed a little more direct stimulation so I added the Pocket Rocket on my clit then POW! Orgasm hit then large bursts of warm liquid exited uncontrollably and pulsed out. I lifted my head with a "what the hell was that?" look on my face and my BF was so proud to congratulate me on my first squirt! And he said don't worry about the puddle, the mattress was protected in advance.

I've been giddy and glowing all week like a teenager; free from the shackles of my mind and seeking my next adventure." – One Pop Laura
Show Her How To Let It All Go  ⇐ Gushing Stroke Techniques
Congratulations to Laura.
It only gets better from here!
If you want to give or receive the gushing joy of female ejaculatory orgasms, there is nothing better than my online home study course Female Liquid Orgasm to show you the pleasure path.
Make Her Orgasm Like This… ⇐ Learn Safely And Privately At Home
Single? You CAN give yourself ejaculatory orgasms with a wand toy. We have an all new updated Toys, Tools and Lube Guide in the program. And if you're a single guy, learn how now so you are prepared when she's in your bed.
Here's why Female Liquid Orgasm is so much better, and different than any other program out there.
Made by a woman,

Tallulah Sulis, who is a renowned sex coach and expert on female ejaculation (that's ME!)

These techniques were

developed during her live events

used by hundreds of people across the gender spectrum

The methodologies

involved emotional components

women need to fully express in order to surrender to orgasmic pleasure

Demonstrated by

real couples and NOT porn stars

These sensual techniques

aren't reduced to "finger banging"

unlike most programs online and in porn

Also includes

how to set up the environment

to provide a more conducive experience for sensual squirting

Includes an

up-to-date guide on the latest toys, tools, and lube

most beneficial for squirting

Also includes

an entire stroke system video for manual stimulation, sex positions for squirting, solo squirting, AND an up-close video showing how to use G-spot toys

without hurting a woman's delicate tissues