Pushing Me Away During Oral Sex
"Sometimes when I'm going down on her, she pushes me away when she's coming."
One of the wildest fantasies guys have is being able to give their lover the experience of female ejaculation (squirting) during oral pleasure.
And for good reason.
It makes a man feel like a "Cunnilingus King" when he sees his lady gushing love juice.  Or a Cunnilingus Queen when it's two women.
The awareness has been raised on the subject of female ejaculation. Many women know about it and want to try it. They are looking for their partner to help them achieve this most glorious of orgasms.
But the clitoris and G-Spot have a mind of their own. Sometimes there are obstacles, like this question from Kevin about why his lady pushes him away during climax and what he can do to help her ejaculate.
You may or may not be aware that Tallulah has an online program called, Female Liquid Orgasm that shows step-by-step strokes to help any woman achieve ejaculatory climaxes.
The video on the next page is 1000% explicit. You will see a demonstration of some of the techniques used to give this woman female ejaculatory release. Please do not click on this link if seeing an image of a real woman squirting up close will offend you in any way.
I don't know why it would. This is a natural expression of female sexuality. And this is instructional video. But forewarned is forearmed… I told ya' so.
Female Liquid Orgasm Secrets ⇐ EXPLICIT Squirting Video And Advanced Techniques Ahead
Here is the alternate "safe" page about Female Liquid Orgasm with no video.
Here's why Female Liquid Orgasm is so much better, and different than any other program out there.
Made by a woman,

Tallulah Sulis, who is a renowned sex coach and expert on female ejaculation

These techniques were

developed during her live events

used by hundreds of people across the gender spectrum

The methodologies

involved emotional components

women need to fully express in order to surrender to orgasmic pleasure

Demonstrated by

real couples and NOT porn stars

These sensual techniques

aren't reduced to "finger banging"

unlike most programs online and in porn

Also includes

how to set up the environment

to provide a more conducive experience for sensual squirting

Includes an

up-to-date guide on the latest toys, tools, and lube

most beneficial for squirting

Also includes

an entire stroke system video for manual stimulation, sex positions for squirting, solo squirting, AND an up-close video showing how to use G-spot toys

without hurting a woman's delicate tissues
And onto the Mailbag Q&A.
=================
"Hi Susan,

I want to give my fiance a great orgasm through oral sex. I also want to make her squirt. Are there any tips for that?

I make her feel good and she's having a lot of orgasms already. Sometimes she has really long ones too.

However, sometimes she pushes me away while I'm going to town on her as she is having these orgasms.

Am I doing something wrong?

— Kevin (not his real name)
================
Hi Kevin,
Great question!
Giving her oral orgasms by licking her clitoris often requires different techniques than what will help her ejaculate.
Many women ejaculate while a partner is going down on them.
Others ejaculate during penetration.
While most women ejaculate from a combination of G-Area and clitoral stimulation. Tallulah calls this a blended orgasm.
And there are women for whom anal penetration is the path to ejaculation.
Women are wired differently. And we are hormonally cyclical. So every time you make love you'll need a library of strokes, licks, wipes, pushes —all kinds of techniques so you can vary the stimulation and see what she's responding to.
I also like naming favorite strokes so she can ask for them by name.
Every lover needs a bevy of strategies and strokes to give her the variety of sensation required for both.
We created Tallulah's Female Liquid Orgasm online video program so you can recall the strokes that give her ejaculatory orgasms.
And the great thing about Female Liquid Orgasm is that you can watch it together and learn as you go. It's a female-positive, very sensitive and loving program. The kind that men want to do with their wives and girlfriends.
There is an ebook and a series of close-up videos demonstrating all the techniques.
Quick warning though… this link takes you to an explicit squirting video.
If You Want Your Woman To Squirt, This Is Your Best Shot ⇐ Female Liquid Orgasm (Explicit Squirting Video)
Here is the alternate "safe" page about Female Liquid Orgasm with no video.
Because different women are "wired" differently with their nerve bundles, you'll have to experiment and try all the strokes on her and get her feedback.
Knowing this stroke portfolio will let you adjust to what her body needs everyday for increased success.
Some men just jackhammer their woman's delicate tissue. Brute force instead of elegance. Lame-o!
The man who has a female ejaculation stroke portfolio like Tallulah shows you in her program is singularly the BEST way I've ever seen to consistently and pleasurably get a woman addicted to releasing her feminine waters.
Now, for your other question…
If she's pushing you away while you're going down on her as she orgasms, you're giving her too much sensation.
It's called, "clitoral fatigue."
Some of the strokes in Female Liquid Orgasm are quite subtle. Soft strokes can actually let her come longer and more often once you've had time to let her feel them, and she can learn to come with lighter strokes.
The problem with how most guys make love is that they learned their moves from porn. And while they may look good to guys, to women they don't feel right at all.
Women don't get turned on by aggressive "ninja" techniques that force orgasms out of her.
If you drive her orgasm too hard, she will need a refractory period. Escalating her arousal slowly and bringing more pressure and stimulation as you go is the way to stair step her nervous system so she has multiple, stacking orgasms without clitoral fatigue.
Women DO get turned on by a man who has so many moves he can take over her nervous system so she can trust that he will come her very thoroughly.
You have to slowly guide her turn-on and invite her body to release her juices and explode all over your bed.
If You Want Your Woman To Squirt, This Is Your Best Shot ⇐ Female Liquid Orgasm (Explicit Squirting Video)
Here is the alternate "safe" page about Female Liquid Orgasm with no video.
I learned how to have female ejaculatory orgasms when I was about 45. I met Tallulah and learned about them and wanted to try it. So Tim and I learned together following these same exact steps outlined in our Female Liquid Orgasm program.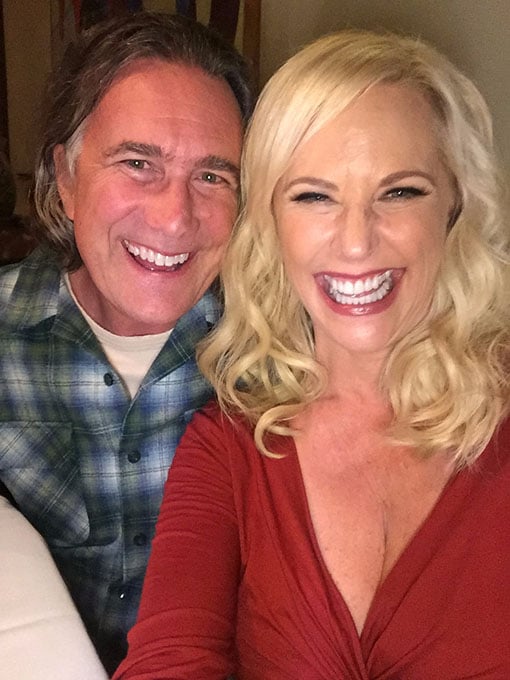 If You Want Your Woman To Squirt, This Is Your Best Shot ⇐ Female Liquid Orgasm (Explicit Squirting Video)
Here is the alternate "safe" page about Female Liquid Orgasm with no video.