"The Curl" Sex Technique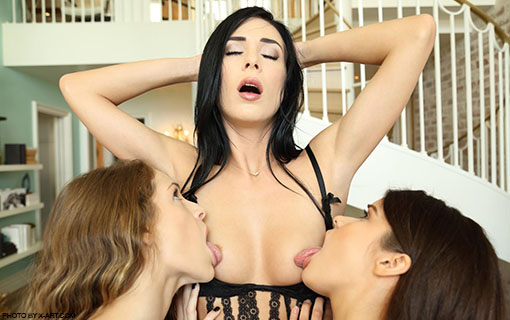 Can you imagine…
She's twisting and moving her hips around, whispering, moaning, and sometimes screaming your name out loud…
In between gasping breaths…
Holding on for dear life!
That's what a wonderfully explosive orgasm makes a woman feel.
One way to induce that spasm-inducing, out-of-this-world experience for her is to apply "The Curl" technique when you're making love.
And to see it in action, check out Gabrielle Moore's lovely, gorgeous (and naked) teachers right here.
Here are some of the variations, techniques, and positions of "The Curl" technique they'll be demonstrating (with their clothes OFF!)
Two-Handed Wonder

The Praying Man

The Nectar Of Three Flowers

Slippery Slope

The Eager Kitten

The Hungry Man

The Claw

The Stand And Squirm

The Pump-It-Up

Assisted Squat

Lovers Entwined

Hanging Garden

Super-Squirter Backdoor Combo
You wouldn't be able to possibly do all these to her in one sex session.
And when she gets a taste of one, she'll be craving for more.
That means more hot sex for you, and more hip-bucking orgasms for her.