Try This New Technologically Advanced Sex Toy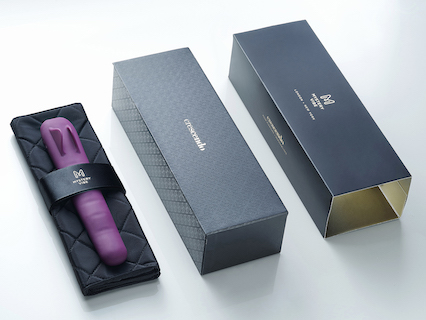 Do you have Erotic Playdates?
Sex dates where you both agree to try something new together.
You could learn how to have an Expanded Orgasm Practice. Or learn how she can experience female ejaculation. Or watch my Steamy Sex Ed Video Collection and follow along with one of the episodes… maybe Fellatio, where you try the moves you see demonstrated.
Our most recent Erotic Play date we experimented with the Crescendo vibrator from MysteryVibe.  I had to try it. It's the most technologically advanced vibrator in the world… and I'm a sex tech geek.
Plus, a lot of my male fans would love to give their woman a really cool vibrator that he could drive for her. This is the perfect Erotic Playdate toy.
TECHIE SEX
The Crescendo is flexible and confirms to your body —whether you're an innie or an outie.
It can wrap around your penis for self pleasure or like a cockring during intercourse to hit her clitoris and give him pleasure too.
It comes with an app that controls six unique motors. Each can be controlled independently for sliding and rolling pulses and rhythms. There is vibration across all the surface area no matter how you bend it.
This MysteryVibe delivers sensation wherever you want it. Run it from clitoris to G-Spot… Put any kind of vibe pattern and intensity right where you want it. The app comes pre-programmed with many "rides."
My guy was driving and I was feeling the feels. It was fun!
The MysteryVibe is for the dedicated masturbator, the vibrator connoisseur, the solo pleasurer, couples who want to play together, gadget nerds, creative types, and for people who really want to experiment with the refined patterns… literally millions of patterns. Because of the phone app this was a big breakthrough with all its playlists and configurable vibe patterns.
You can make playlists. Almost like a movie where you can tell which motors to fire off in which ways.
Any shape, any pulse, any intensity. If you need a Magic Wand to come, this may not be intense enough.
Getting beyond buttons on a vibe with an interface makes it easier. But it takes time to figure it out.
"The world's most precise and variable vibrator."
My man says it's like a MIDI sequencer for your pussy or cock.
Technical, app-oriented, creative types will love this.
For masturbating aficionados across the gender spectrum.
Unisex, Intersex, AltSex. Quiet. 💯 Silicone. Waterproof. 💦 
Here are a few details about the Crescendo Vibrator.
Infinite Toys In One: Crescendo can be shaped to suit your body and maintains its shape perfectly, allowing users to reach, stimulate and discover areas they have never been able to explore before. It is completely adjustable, bendy and flexible and extremely discreet. The Crescendo experience is different every time, making this one vibrator you'll never get bored.

Ultimate Personalized Pleasure: Hit the high notes with deep, intense vibrations that will leave you with shuddering orgasms…again and again. Crescendo's 6 powerful motors are independently customizable, allowing for an unlimited number of vibration patterns. Whether it's body-ripple patterns or simple repeat rumbles, you can find the vibe that suits your desire.

Silky-Smooth Body-Safe Silicone: Crescendo is designed with the highest-quality, body-safe premium silicone. Beautifully silky, smooth and seamless – Crescendo is a seriously seductive smart toy. And with its dual-insertable design, you'll discover endless pleasure possibilities by yourself or with a partner.

Wireless Charging + 100% Waterproof: Rechargeable with beautiful induction charging, Crescendo runs for 2 hours at maximum power and lasts a stunning 30 days on standby making it ready whenever you are. Crescendo is 100% waterproof, which opens up a whole new world of possibilities…and also means that this outstanding piece of tech is really easy to clean.

Remote Control Mobile App: Curious about Power Play or looking to add more excitement to the bedroom (or outside of it)? The MysteryVibe remote control app lets you get in touch with your kinky side… Let your partner take control of the intensity and vibration patterns. The free MysteryVibe app allows you and your partner to get to know each other more intimately than ever before. Create your own vibes, remote control your partner's vibrations in real time and download countless new patterns – all for free.

Universal + Unisex: The complete self-discovery loved by women, men, singles, couples in 58 countries. Perfect for all genders and orientations.
⇐ The Crescendo Vibrator