The 3 Magic Words That Spark Intimate Lovemaking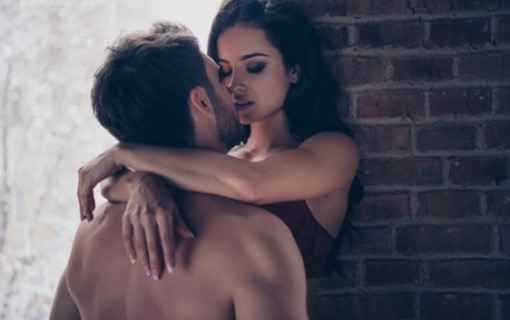 He holds you, he starts kissing your legs, your thighs, the back of your knees, the back of your neck… Next he's sucking your toes or whispering his sweet cravings in your ear. You tell him, "come inside me…", but he just smiles and continues to tantalize you even more… You love how freakin' great he is at making you melt…
A guy will choose a YOU based on how passionate and intimate you are when you're with him…
Whether he's a guy you like, or a guy you're dating…
Or a man you've been with for years. It's going to be the same.
But you have to strike the right chord. Not slutty. Not like a porn star.
More like a PASSIONATE GODDESS.
But how? He'll assume he knows what you want in the bedroom. That's for sure.
And how exactly do you tell him what you really want when you make love?
Well, you're not the only woman having this dilemma.
That's why I'm putting my bestselling program, the Steamy Sex Ed® Video Collection, ON SALE very soon!
So you can choose from over 200 advanced, sensual lovemaking techniques without the awkwardness of having to tell him…
Just point to the ones you want to try.
And tell him the 3 magic words that spark intimate lovemaking.
LET'S TRY THAT.
It's that simple, sweetie.
Now, most men have seen porn, which sucks. Because they think it's the right place to learn how to have sex.
So you have to take it on yourself as a woman to train men in the bedroom.
They want to please you. They really do.
But if you leave it up to them, sigh…
My video program is all about heart-connected, passionate lovemaking. The kind that goes beyond physical, genital-mashing.
You will both love it. And he will love you (and make love to you) so passionately because of what this program will give you.
Get On The VIP List⇐ Spark Deep, Fiery Connection In Your Relationship (Going On SALE Very Soon, Get Yours In Time For Valentine's Day)
You'll get one-day advance notice before other people so you can have a chance to consider purchasing my Steamy Sex Ed® Video Collection before all of our 60% off sale copies are snatch up by others who want to deepen their connections more than you do..
GET HIM ADDICTED TO YOUR BODY
Too many women tell me their dates just, "stick it in" too fast!
It's important not to seem like you are "trading on sex."
Because if you do that… he won't respect you.
If you give up your body just to be with him, he will treat you like his booty call… and that's pretty much it.
So how do you navigate this landscape to be sexually irresistible but not sl*tty?
Passion, more than how you look, and more than how you wow him in bed, will attract him to you.
The best thing you can do is have a variety of lovemaking techniques, positions, and styles that you can use interchangeably one after another in a fluid motion of unending bliss.
To let him know that sex to you is important… as important as it is to him.
Yet, you're no pushover. You know your way around your bodies. You know your way to his most pleasurable spots. And that you know how to make him explode like he's never exploded before.
Being sexually knowledgeable, confident but not acting like an adult star strikes the perfect balance.
And that is exactly what the Steamy Sex Ed® Video Collection teaches couples how to do.
Get On The VIP List⇐ Spark Deep, Fiery Connection In Your Relationship (Going On SALE Very Soon, Get Yours In Time For Valentine's Day)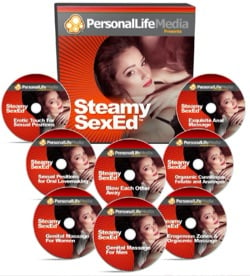 Made for women and couples to watch together… Steamy Sex Ed® Videos are heart-connected, conscious lovemaking techniques portrayed by couples who are handsome and pretty but NOT TOO PERFECT.
The candlelit sets are draped in silk and satin and showcase sensual massage and lovemaking techniques.
These videos are the antidote to pornography.
So the best way to both combat this stressful dating situation AND have enough knowledge and techniques to help a guy do a good job is to WATCH these lovemaking videos so you can see what truly sensual, erotic lovemaking can be like.. and then show or tell him how to please you.
You won't see lovemaking techniques videos like this on the Internet. You won't see these  kinds of passionate demonstrations in the movies.
This is straight up 200 techniques showcased by sweet couples so you will have an incredible repertoire of moves you can use to make HIM and YOU feel incredible pleasure.
That creates a winning experience for him that will endear you to him above all other women.
Get On The VIP List⇐ Spark Deep, Fiery Connection In Your Relationship (Going On SALE Very Soon, Get Yours In Time For Valentine's Day)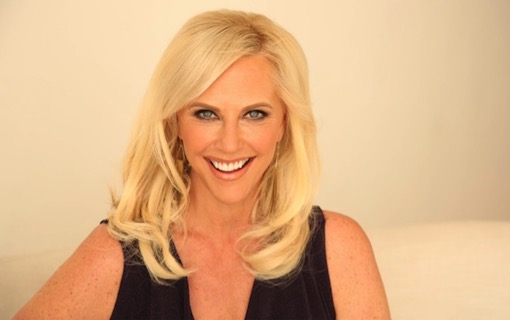 Sweetie, I want you to sign up to the VIP list, even if you're not yet sure you want to get Steamy. Here's why.
I'm so proud of these videos, that I just want you to see the preview videos for yourself.
Plus, there's absolutely no obligation to buy.
You can decide for yourself that you want to get the Steamy Sex Ed® Video Collection during the SALE… or wait for next time whenever that may be… and whenever you're ready for phenomenal lovemaking.
You decide. Just go sign up for VIP. You deserve to be there anyway.
Get On The VIP List⇐ Absolutely No Obligation To Buy Right Now (Take A Peek At The Preview Videos)
There will only be a limited number of copies. And we usually sell out days before the sale ends. So I suggest you sign up for the VIP list to get your copy before everybody else gets the chance to order theirs.
So if you want to be at the head of the line, in front of everybody else who can't wait to get a taste of Steamy Sex Ed®, get on the VIP List today!
Steamy Sex Ed® Video Collection VIP List⇐ Jump To The Head of the Line!
The Steamy Sex Ed® Video Collection will be at 60% off on January 31st for 5 days only, or until we sell out. We only have 500 copies available!
Susan is a trusted advisor to millions of lovers who want lifelong intimacy and passion. Known for her programs including her #1 international best-seller, Sexual Soulmates, Relationship Magic, 30 Romance Tricks That Work Like Magic, Revive Her Drive and the Steamy Sex Ed® Video Collection, Susan is beloved by couples worldwide for helping them keep the flame of passion alive in their relationships.