Biohackers' Go-To Sexual Performance Booster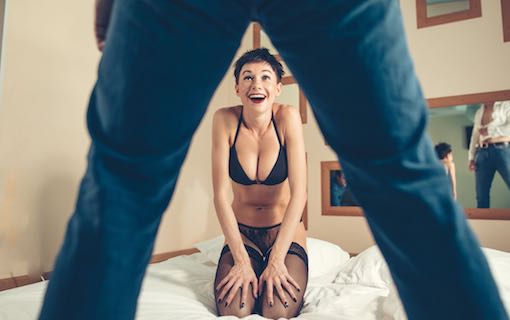 If you're interested in how GAINSWave can act as a sex performance booster, I recommend downloading their FREE book to discover more about the GAINSWave protocol.
"I'm often asked, of all the protocols I've used to enhance sexual performance, which was the most immediately noticeable, without necessarily requiring fringe injections and thousands of dollars worth of stem cell therapy. Hands down, it would be the GAINSWave protocol." —Ben Greenfield, fitness author, personal trainer, biohacker, nutritional consultant, and wellness advisor.
As men age, micro-plaque builds up in the blood vessels of the penis. With environmental factors, smoking, consumption of large amounts of alcohol, and an unhealthy diet, there's no wonder why "blockages" form in men's blood vessels, leading to inefficient circulation, which eventually leads to sexual health issues and erectile dysfunction.
But aside from expensive (and possibly life-threatening) treatments, there are protocols men can get to eliminate these blockages and restore their sexual vitality.
Many men use GAINSWave treatments to reverse ED or fix curvature from Peyronie's.
However, some guys use it for sexual enhancement, like Mark.
Check out Mark's GAINSWave experience by scrolling down below.
If you're interested in how GAINSWave can give YOU a sexual boost or revival, I recommend you download their FREE book to discover more about the GAINSWave protocol.
SEX PERFORMANCE BOOSTER
"I did get GAINSWave therapy. It's great. The procedure is relaxing, and let's be honest, anything stimulating the penis is great.
I've also been using the penis pump. I may have gotten a 1/4-1/2 inch longer, but my girth and hardness are going thru the roof.
Nothing sounds better than having her say, "Baby, you're so thick and hard." One of my partners says I don't need to you pound my cervix but spread my tunnel, and I'm all yours.
The results have been terrific. Very pleased. So much better than the blue pill." — Mark (name changed to protect identity)
I'm a true believer in the GAINSWave protocol. That's why I talk about it so often. I've recommended it each time I get the chance. Even my husband has had GAINSWave.
Our good friend, Dave Asprey, a famous biohacker and creator of Bulletproof Coffee, has gone through the GAINSWave protocol and recommends it greatly.
If you're interested in giving yourself (or if you're a woman, your lover) a sexual performance boost, check out GAINSWave's FREE downloadable book to discover more.
Here's what you'll discover inside the book:
How to give your package a much-needed tune-up.

One potent sexual biohack your partner will love.

Why regular maintenance is essential.

What GAINSWave® is, how it works, and what to expect.

Patient testimonials & clinical studies.

How to find a provider & start the conversation.