Women's #1 Issue With Their Sex Life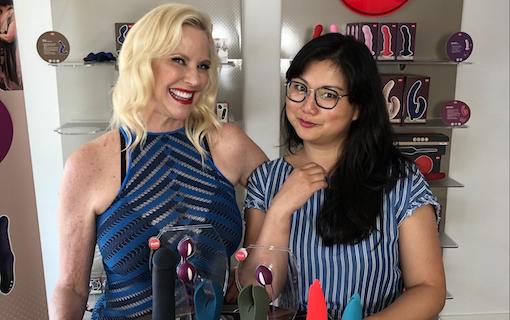 What are women's most prevalent complaints and issues in their sex life? 
I asked this question to my female readers and I got a TON of answers. 
And I was surprised that the majority of the answers weren't really about sex itself, but problems that are stopping them from enjoying amazing, heart-connected lovemaking with their partner. 
The arrows are pointing to one BIG culprit. 
Check out some of the replies I got, which summed up the general issue, and my solution for them below.
Stuff I Recommend Is In My Amazon Store Here ⇐ Specific Lubes, Books, Intimacy Accessories, And More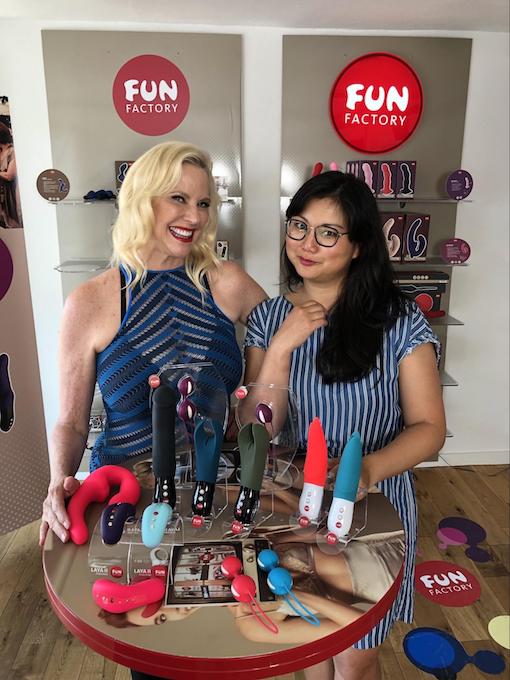 STOP THE PAIN THAT STOPS INTIMACY 
This is me with Kristy Stahlberg of Fun Factory. I went to Bremen, Germany this summer to meet with them and tour the factory. I wanted to get educated on the "Porsche" of vibrators.
I learned a TON and was so impressed. They are 25 years old, super-premium products in a wide range of options.
Painful Sex
"My Dear tells me she gets some pain after we have sex. What could be the problem?"
======
Once Upon A Time, I Was Too Wet. The Fountain Has Disappeared. 
"I have a huge problem. I am 74 years old and horny, to put it bluntly. But my body has betrayed me. I am very dry now and tight. I have been on a blood thinner for many years.  My OB-GYN refuses to give me hormone therapy. She said to use coconut oil. How? I don't have the slightest idea of how to approach this situation. Once upon a time, I was too wet. The fountain has disappeared. Help ASAP."
=====
Vagina Pain, Dryness, Lack Of Libido — You Name It
"I'm 52 and I've been menopausal for two years now. Been taking Amberen for 5 years and now switching to another brand. My problems include vaginal pain during sex, dryness, lack of libido — you name it. I still have some pain during intercourse. I guess the friction just gets to me. I use lots of lube but still have issues."
=====
The Friction Is Killing My Libido 
"So I need your help. What else can I do about being dry? The friction is killing my libido. Which lube is the longest lasting? What is the best medication to balance my hormones? I have lots of pain and burning during sex. Help."
====
Don't Want To Try Sex Again Because Of The Pain 
"Hi Susan, I'm a fit person, but when it comes to sex I don't want to even try because of the pain. My husband has purchased a few toys to help me and yes I do get some off with external help but can not cum with Intercourse. What do I do?"
====
I Don't Want To Dread Having A Sex Life
"Hi, Susan. I haven't had sex with another human in over 4 years. I have never climaxed from penetration and have difficulty stretching to accommodate even a small vaginal toy. Are there any toys that would gradually stretch me without hurting so that, when I do find a new partner, I won't have to dread having a sex life?" 
======
As you can see, the problems most women have is having pain during or after sex.
Painful sex sucks, because it makes you not want to have any sort of intimacy anymore with your lover. And from lack of intimacy stems from a lot of problems. 
Here's the advice I gave to each of the women who emailed me. 
A smart idea is to masturbate and to open your vaginal canal with a pleasurable tool. When you have a masturbation practice, it increases blood flow (engorgement) and arousal.
As you begin you may need a lot of lubrication. Use copious amounts of organic avocado or coconut oil. (see links to my Amazon store for the ones I recommend. I've personally tested a TON of different products. Most have a poor slipperiness, or they stink, or they stain or they are overpriced or the bottle leak or they stink… These are my battle-tested, low-cost high value, safe to eat natural, organic oils of choice.
When you use these toys a few times a week, or even daily, you will orgasm more easily, your tissues will become softer, you will get more tumescence, you'll have more pleasure, you'll relax more and your orgasmic sensitivity and ability will increase.
If you want to get your partner involved, you can.

Personally, I like to masturbate alone in bed in the morning after Tim gets up. I prefer to masturbate privately. Do what makes you feel most comfortable. Lock the door. Turn on the music. Make yourself comfortable and take a little time.
Only you can guide yourself with your body's own wisdom. 
Of course, you can also take estrogen. You can get an estrogen cream. You can apply a compounded oxytocin cream to your vaginal tissues. You can get a vaginal restoration series of treatments like a Mona Lisa, FemiLift or Viveve (this one is RF, not CO2 lasers and I am most interested in this Viveve technology right now). All of these will also help with dryness, thinning tissue and laxity.  For some women, it's so painful they have to do the hormones and restorative treatments. I did the CO2 lasers and RF devices a few years ago and am SUPER HAPPY with the results.
But if that's out of your price range or you're not ready or you want to try to rejuvenate your vagina yourself, start with masturbating with a good, organic nut oil daily or as much as possible.
I suggest either the Fun Factory Lady Bi which has both an internal vibrator with a clitoral stimulator (my favorite toy right now) or a pulsator that can stimulate your vaginal canal. 
⇐ Check Out This Sex Toys 
For pulsators, the one I recommend is the smallest called the Stronic Real. But you might want to try the StronicG as it also stimulates the G-Spot. 
The G-Spot holds a lot of emotion. You could be emotionally armored in your vulva which is why you feel so tight. The StronicG will help soothe your emotions.
⇐ My Recommended Pulsator Toys 
The Jam is super tiny if you feel like your vagina has fused shut from dryness or lack of use. But it's battery-powered instead of rechargeable. I still prefer the two above. 
⇐ Battery-Powered Pleasure Toy 
Use lots of lube. 
The lube that I recommend can be found in my Amazon store under safe lubrication. 
Check Out My Amazon Store Here ⇐ My Recommended Lubes, Books, Intimacy Accessories, And More 
Let me know what you choose and how you do.