How To Fix My Vagina (Mailbag)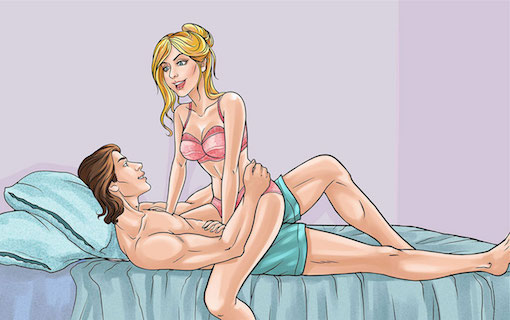 Here is your seven-step vaginal restoration plan. 
70-year old Barb had a hysterectomy 20 years ago. She wants to rejuvenate her vaginal system and make love again.
She found me and wrote in asking for advice as they struggle with pain and discomfort during sex. 
Check out her email and my detailed recommendations below. 
Click Here For The Expand Her Orgasm Tonight Couples Practice ⇐ Discover How You And Your Lover Can Have Way More Fun, Sexy Date Nights With This Expanded Orgasm Couples Practice 
STEAMY COUPLES NIGHT
"Hi, Susan. 

I am one of those women, who lost her drive for sex due to pain. I had a vaginal hysterectomy and I think I may have scar tissue. Certainly dryness, pain and as you described, feels like broken glass inside. My husband has been ever so kind but doesn't understand why I don't get help (I don't know where to go). When I saw your videos, I  jumped at it, mostly so he would know I wanted to try.

My hysterectomy was 20 years ago. I turn 70 in a month and I am not ready to be old.  I look and feel young. People are surprised when they hear I am 70, and compliment me. Which is nice. I must say my husband is a handsome dude, too. Same age, high school sweethearts (Barbie and Ken) seriously, those are our names! 

We used to have great sex with multiple orgasms. But between the hysterectomy and my stressful job, our sex life was put in the back seat of our relationship. 

We live in (location withheld.)  If you know of a therapist nearby who can help with my gynecological issues, I'd greatly appreciate it.

Thank you, too, for all your advice and videos. You and your husband offer me and my partner hope. I do please him, but it also leaves him dissatisfied that he cannot please me in the same way. 

What should we do about this? 

Thank you.

Kindly,
Barb"
=============================
Hi Barb,
I'm so glad you are ready to regenerate your genitals so you can get back to satisfying pleasure with your husband.
Here is your seven-step vaginal restoration plan:
Bio-Identical Hormone Replacement

Vaginal Recollagenation

Internal Lubrication 

Healing Massage

Blood Flow!

Masturbation

Expanded Orgasm Practice
Go to a functional doctor and get prescriptions for bio-identical hormone replacement therapy: estrogen, progesterone, and testosterone. 
Don't take estrogen pills. Get your bi-est (two kinds of estrogen: estriol and estradiol) compounded in a cream you put on your labia and vaginal tissue directly.
According to my hormone guru, Dr. Jonathan V. Wright, "Orally ingested estrogen raises the risk of venous thromboembolism (blood clots), and that topically applied estrogens do not."
He goes on to say, "Anyone who reads medical journals knows that from the 1960s through the 1980s, Dr. Henry Lemon established (and was never disputed) that estriol (one of three major estrogens) is anti-carcinogenic, and that women whose bodies have more estriol than estradiol and estrone combined are at much less risk of breast cancer and other "estrogen-related cancer"." 
Ask your doctor to tell the compounding pharmacy to use organic coconut oil instead of the carrier creams they default to as those are full of toxic crap. 
Make sure your doctor does both a blood test and the four-point dried urine (DUTCH) test or comprehensive 24-hour urine test to check both your free and bound hormonal profile. 
You may need to adjust the dosages so that you feel "just right." Start small and add if you need more.
The hormones will give you more vaginal lubrication and libido as well as help you sleep and think better. The estrogens moisturize, the testosterone improves libido and pleasure and the progesterone balances the estrogen and helps with sleep.
However, the "broken glass" feeling may not be alleviated solely with hormones.
You can do a telemedicine call with Dr. Glenn Wilcox of Wise Medicine in Albuquerque, New Mexico and he can have his local compounding pharmacy mail your prescriptions.  
Check Out Dr. Glen Wilcox's Website ⇐ Click Here 
Ask him about making you an oxytocin cream to use vaginally as well. That really helps plump the tissue again.
Next, go get an intravaginal CO2 laser or RF vaginal restoration treatment to re-collagenate your vaginal mucosa and help repair the scar tissue from your hysterectomy. Gotta plump up and restore that tissue.
The CO2 lasers like FemiLift, Mona Lisa and others take multiple treatments. The Viveve is supposed to be a single pass treatment. See what you can get in your area. I'm about to go get a Viveve — I've had the CO2's and they helped for years. But vaginal atrophy requires maintenance. I want to try the latest and greatest which is now Viveve RF.

I had our darling Miss Marisse from our customer care team call around California and see what Viveve treatments cost. They range in price from $1500 to $3000 US, so it's important to get quotes. Everyone has the same machine. But make sure they've done a LOT of treatments. It's still a new technology.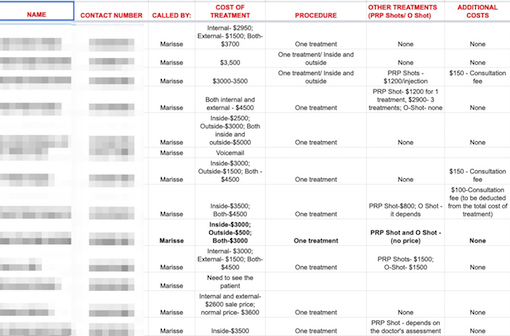 Here's A Link For More Info ⇐ Viveve Treatment 
Viveve Treatment Providers ⇐ Click Here
Viveve uses an RF technology that is reported to be an improvement on the old CO2 laser technologies.  
If you can, find a local provider that has the Viveve machine AND does Orgasm Shots with PRP (platelet-rich plasma). Often a single O Shot that includes PRP not just into the clitoral and urethral tissue, but also into the hysterectomy scar tissue can alleviate the adhesions, increase vaginal lubrication and restore orgasmic sensation and increase orgasmic pleasure. 
The spot that pains me is the bottom of my vaginal sphincter. That is the same place many women have episiotomy scars, which also respond well to PRP as do cesarean scars and any other vaginal adhesions.
I recently went to my darling friend, Dr. Robyn Benson to get an O Shot and she put a lot of the PRP right into that area to rebuild the tissue for me.
This is a picture of me getting the Orgasm Shot from Dr. Robyn.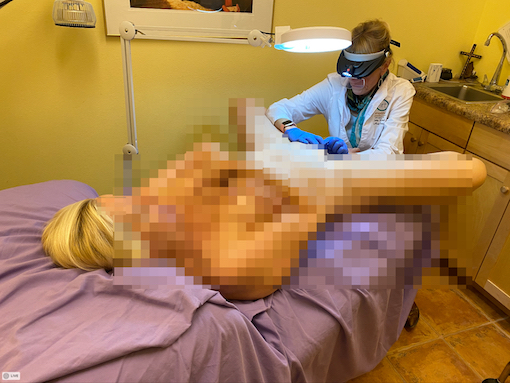 Here's A Video To Learn More About It ⇐ O-Shot Videos
Here are Robyn and I from my recent trip to her office at Santa Fe Soul in New Mexico. NM is a lot cheaper than California!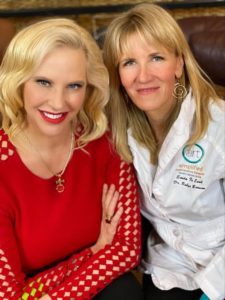 OMG, this woman LOVES to give O Shots.  She is a Yoni healer big time! I just adore her so much.
Next step… 
Get some organic avocado oil to use for genital massages by your husband. The one I recommend is in my Amazon store.  I buy literally buy it by the gallon and use it for my lube, my skincare, and massage oil. You could cook with it too. Haha!
Check Out My Amazon Store ⇐ My Favorite Products I Personally Use 
I've tried all the oils and this is the best. 
Have him slowly get up inside you and rub everywhere the scar tissue hurts. Do this a couple of times a week. Scar tissue needs massaging to break up the adhesions and get the blood flowing.
Blood flow. Blood flow. Blood flow.
Start taking my new nitric oxide boosting supplement made from organic watermelon and spinach. Just ask your hormones decline, your body's ability to produce the nitric oxide that relaxes your blood vessels so you can get blood to your brain, your heart and ALLLLL your parts.

Citrulline is the best source and mine is the ONLY organic one ever made!
Have your man take this too. It's good for everything. It's literally the #1 thing you should take besides a daily multivitamin-mineral.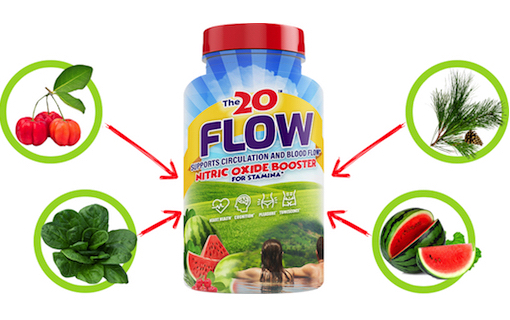 FLOW is going to get blood flow to your genitals along with the massaging. They are going to help you get everything moving again.
LET IT FLOW ⇐ Get Blood Flow To Your Genitals For HEALTHY Pleasure
Your man can also rub the scars from the outside by pressing on your abdomen with your guidance as to what feels therapeutic.
You need to re-lubricate your tissues from the inside out as well.
Start taking cod liver oil (I take the berry flavored one), high molecular weight hyaluronic acid and this
⇐ Lady Bi and Stronic G Sex Toys From Fun Factory 
Self-pleasuring with one of these toys and the organic avocado oil will help significantly with your engorgement and lubrication. Here's a video I did all about the benefits of doing this self-pleasure challenge. 
The final advice is for you two to start an Expanded Orgasm practice together.
Your man is going to be massaging you. So he might as well learn about the Expanded Orgasm clitoral stimulation technique.
This doesn't require vaginal penetration. It will get you orgasming really well and bringing a lot of blood to your vulva. 
It's also a great way to learn something new together by doing the 21 erotic playdates that come with the program.
Here is the website for the Expanded Orgasm practice.  
Click Here For The Expand Her Orgasm Tonight Couples Practice ⇐ Discover How You And Your Lover Can Have Way More Fun, Sexy Date Nights With This Expanded Orgasm Couples Practice 
This is an EXCELLENT "couples experience" to rejuvenate your genitals, give you incredible pleasure, bring you closer to your husband, have him feel like he is satisfying you and expanding your orgasmic ability. The program has the step-by-step videos as well as 21 erotic playdates you two can have to learn all the facets of the technique.
You can start immediately with the Expanded Orgasm and massage and taking the supplements while you research hormone doctors and the vaginal treatments.
Let me know your questions.
All information from Susan Bratton, The20, this website and all of our collective brands' have not been evaluated by the Food and Drug Administration and is not intended nor implied to be a substitute for professional medical advice, diagnosis or treatment and is for general information purposes only. If you are pregnant, nursing, taking medication, or have a medical condition, consult your physician before using our products. We have personally vetted and received affiliate commissions from most of the products and programs we recommend.