Summer Lovin' Giveaway #5: NūVita CBD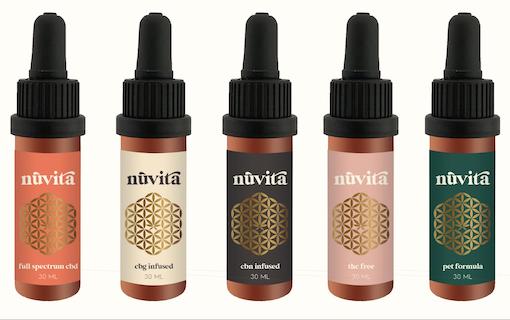 We at The20 and Personal Life Media want to show our massive appreciation to all our readers, followers, fans, and customers.
That's why we are GIVING AWAY a treasure trove of wonderful toys and treats.
Over the next few weeks, I'll be sending you emails about amazing bedroom toys and wellness treats that YOU have a chance to win.
You can join the giveaway for one, two, three, or even ALL of the gifts! Scroll down for the giveaway mechanics below. 
First here's GIFT ITEM #5. 
The Full NūVita  CBD Line
⇐ Click Here To Skip The Giveaway And GET ONE For Yourself Right Now
I recently sent you a few emails about this new, wonderful line of products that I recently discovered through a dear friend of mine, Dr. Mary Clifton.
NūVita CBD is a couple-owned company that sources its own cannabis and produces its own line of products to ensure the highest level of purity and quality.
CBD is legal in all 50 United States of America. Today, you see all kinds of CBD products everywhere… including advertised on Facebook. Tinctures, gummies, candies, slushies, patches. You name it.
NūVita 's CBD is not psychoactive. NūVita 's Full Spectrum CBD only has 0.3% THC, not enough to give you any psychoactive effects. In fact, none of NūVita 's CBD products can get you high.
However, they also developed a THC-Free variant for people who may be drug-tested at work.
NūVita 's CBG variant has strong anti-inflammatory properties. It helps relax your muscles and uplifts your mood. It's best for any kind of pain and inflammation.
NūVita has a special blend of their CBD Oil primed to help you and me deal with anxiety, stress, as well as promote better, more restorative sleep.
They also have their own line of CBD Oil for Pets.
NūVita  CBD
Here's how you can get a chance to own a set of NūVita CBD Oils: 
Anyone can join. Regardless of where you live.
You can submit ONE entry to the GIFT/s of your choice. 
You can submit entries to more than one GIFT.
You can only get ONE gift out of all your submissions. 
Make sure to only join the giveaways for the gifts you want. 
There are 3 ways to join the Summer Lovin' Giveaway. 
Video Entries
Non-Video Entries
Amazon Review Entries
NOTE: I absolutely love it when my readers and fans send me videos, and you'll get my attention more with a video. However, I will still go through all entries to pick all the winners. Everyone who joins has an equal shot at getting a gift.
If you want to get a chance to own THIS gift, you have to submit an entry for this specific giveaway using the unique link below even if you already joined for a previous gift. 
Join The Summer Lovin' Giveaway Here ⇐ Submit Your Entry And Get A Chance To Own A Set Of NūVita  CBD Products
⇐ Click Here To Skip The Giveaway And GET ONE For Yourself Right Now
Good luck! I can't wait to watch or read your submission.
NuVita is not currently available for shipping to Canada, Australia, Sweden, Korea, the Democratic People's Republic Of China, Oman, Philippines, Russia, Syria, the United Arab Emirates, Vietnam, and Yemen. All other countries are available for shipping under your country's customs rules.
Click here if you want to see all the gifts included in the Summer Lovin' Giveaway.
* Read here the terms and conditions of Summer Lovin' Giveaway