3 TOP GAINSWave Doctors Share Their Secrets To Sexual Vitality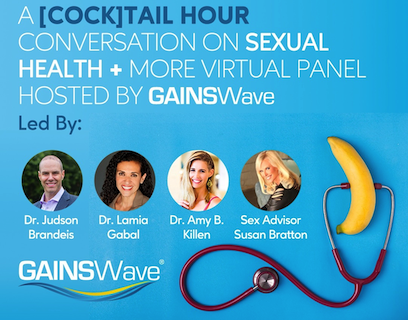 The GAINSWAVE EXPERTS WEBINAR REPLAY IS AVAILABLE! Special PROMO Available On The Page (Get 1 FREE GAINSWave Session — Details Below The Video) Watch The REPLAY
Whether you're still in your 30s or already in your 50s and 60s…
If you want better sexual intimacy and relations with your lover, you do not want to miss this.
Three of the country's top GAINSWave experts join me to discuss how the current state of the world is affecting male and female sexual health and intimacy.
Here are some topics we covered extensively:
COVID's impact on sex and intimacy
New trends in sexual health
Biggest pain points of the patients
Insights into the gender-spectrum healthy erectile function
Hottest sexual regenerative therapies to check out
⇐ A [Cock]Tail Hour Conversation On Sexual Health + MORE (Get 1 FREE GAINSWave Session — Details Below The Video)
THE BIG BANG OF GAINSWAVE EXPERTS
About Dr. Brandeis:
Dr. Brandeis served as the Chief of Urology at John Muir Hospital, is an active member of the Sexual Medicine Society of North America, and is the Director of Clinical Excellence for GAINSWave — boasting of over 20 years of experience in sexual wellness.
About Dr. Amy B. Killen:
Dr. Amy started out as an emergency room doctor and then fell in love with regenerative medicine. She specializes in working with sexual stem cells and focuses on non-invasive procedures and solutions to let your body heal on its own. Amy is doing some very leading-edge work in the area of sexual regenerative medicine.
About Dr. Lamia Gabal:
Dr. Lamia is a board-certified urologist in the Southern California area of Orange County, and she has patients across the gender spectrum. She is a urologist, but she is also working with women from a gynecological perspective. Often when you're dealing with sexual health, you're dealing with heterosexual monogamous couples as the norm, and often it is not just the person, the patient that you're dealing with, but also their partner that you have to be sensitive to. Dr. Gabal brings a lot of great wisdom as a GAINSWave provider and doing many other things.
About Susan Bratton:
Susan is an intimacy wellness expert focusing on men's erectile performance, reversing Erectile Dysfunction, overcoming Premature and Delayed Ejaculation, Sensation Loss, and teaching men how to become multi-orgasmic lovers. She is an active and official company spokesperson for GAINSWave because she has witnessed the RESULTS of this breakthrough treatment that has helped thousands of men of every age have the most robust erections possible.
This webinar replay is free and for educational purposes only.
Click Here To Check Out FLOW ⇐ Blood Flow Brings More Oxygen, Energy, And Vitality