The less muscle you have, the faster you age and the shorter your health span. Read on to learn how to fight muscle loss.

The more muscle you have, the more energy you feel.
You need more muscle.
Let's talk a little bit about Sarcopenia today.
Also known as muscle loss, which happens from lack of movement, aging and illness.
Sarcopenia affects 32.8 million people in the US alone.
This condition is caused by age-related problems and an imbalance between signals for muscle growth and muscle breakdown.
Muscles grow and degenerate in a balanced cycle in standard, healthy bodies. But as we age, the scales tip more on the degenerative side than on healing and growth. 
Furthermore, our stressful environments, chemically-laden foods, and a lack of physical activity can add more to muscle decline.
I don't even have to tell you to imagine what muscle weakness feels like. Most of us have experienced it already.
So what can we do to fight back and regain muscle health and energy?
My new favorite supplement that feels like a total muscle building cheat!
⇐ Revitalize Mitochondria To Promote Cellular Energy Generation And Muscle Strength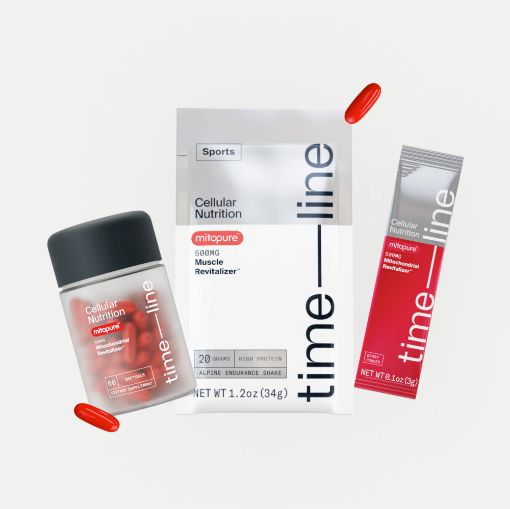 MUSCLE POWER
Increasing our intake of protein-rich foods, creatine, Vitamin D, and Omega-3 fatty acids are other ways to help our bodies trigger growth and energy production over muscle deterioration.
I hate creatine. It makes me too thirsty. And I found something MUCH better accelerating muscle growth while increasing total muscle energy.
Mitopure.
Mitopure is a nutrient developed by brilliant researchers and scientists to help bring back the power in our aging mitochondria and build muscle faster.
HOW TO FIGHT MUSCLE LOSS
Any effort you make to exercise improves when you are taking Mitopure. 
I mix one packet of the vanilla whey protein in with my collagen powder, green powder, homemade yogurt and cashew milk, add some MCT oil, frozen/fresh blueberries, raspberries and banana and drink it before my workout.
Mitopure powers my workouts and it tastes so delicious. I look forward to it every morning.
⇐ Revitalize Mitochondria To Promote Cellular Energy Generation And Muscle Strength
This supplement is helping me lower my biological age so that I'm not 60, I'm 46 and working on pushing that number lower.
If there is ONE thing besides eating vegetables and protein that you can do to improve your energy and longevity, taking Mitopure to accelerate all your movement is key.