"My Wife Is Frigid."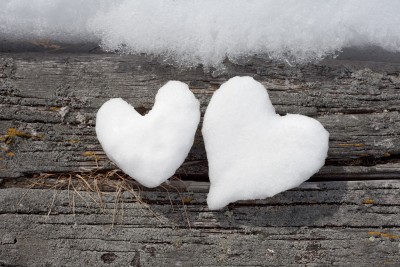 "B" wrote to us recently:
"My wife has "fallen out of love" with me. She's frigid. She has an extremely demanding job and she gets migraine headaches so badly she sometimes throws up." She spends a lot of time with her work peers complaining and says I don't understand. She also confessed to me once that work is a way for her to escape the pressure at home – the pressure of resolving our marriage issues."

"Would you be about to shine some light on this?"
Dear "B,"
I've consulted with Dr. Patti on this and here is our recommendation. We feel for you. You are NOT alone. It's not your fault. And it's FIXABLE!
First of all, there's a very high likelihood that you and your wife can resolve all of this and create an amazing, juicy, connected, intimate relationship with a little effort and commitment to working things through.
Secondly, "B," you can and must do the bulk of the work to get things going the right direction and we can tell you what to do.
Third, your wife must go to the doctor and have her hormones checked to see if that's what is causing her migraines and keeping her in a state of upset.
OK. Here's the plan. This could take months, even years, but you married her and you love her and you must believe that deep down inside she wants to be intimate with you and she's just waiting for you to rescue her from the emotional mire she's found herself in.
You purchased the Seduction Trilogy. Now here's how to apply it to a sexless marriage (the exact reason we had Dr. Patti create the Seduction Trilogy, by the way).
There are three books in the Trilogy. The first, Seduce Her Tonight teaches you the first two of Four Keys to Seduction: Small Offers and Erotic Vigilance.
The second book, the Seduction Accelerator, teaches you Key #3, Vulnerability and Key #4, Vision.
You are going to start with Vulnerability. And use the Feelings Inventory and Needs Inventory checklists in the Seduction Accelerator to tell your wife exactly what's going on with YOU.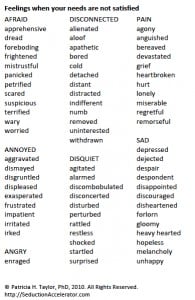 Are you

sad

that there's no intimacy?
Do you

miss

being close to her?
Do you

crave

physical intimacy with her?
Do you

wish

she was happier and felt better?
Do you

want

to help her get rid of her migraines and crappy job?
Do you want her to

rely

on you as her husband to help her feel better and resolve her issues?
Do you want to make her feel physical

pleasure

and reconnect with her sensuality?
Do you

dream

of having a deeply loving, connected, sexy, satisfying marriage with her?
You must tell her. She needs to hear this. Tell her you want her to know how you feel and you are not telling her to make her feel badly. You just want her to know, clearly, what you desire.
Then help her schedule a doctor's appointment and get to the cause of the migraines – hormones, allergies, stress, something else.
Next ask her how you can support her when she gets home from work in relaxing, kicking back and letting you take care of her for a while.
Really listen to what she needs and give her exactly what she asks for.
Then start running menus of Small Offers that you figure out using Erotic Vigilance. She what she says, "yes," to. Keep making small offers every night, during the weekends, when ever you are together. Put your attention on her rejuvenation.
Slowly, over time, she will come to trust the integrity of your offers. She will experience your caring, your leadership, your Vision of the two of you getting together again in more and more intimate ways.
You'll go from making her tea, ordering dinner, drawing her a bath to massaging her feet, her head, her neck to body massage to Expanded Orgasm stroking to lovemaking.
What you must be careful of is making an offer in the hopes it escalates to sex. Don't do this! Get sex off your mind until she's reconnected emotionally and very warmed to you and feeling better with her migraines.
Don't offer a massage hoping for intercourse.
Just stay the course until the day she offers herself to you again.
Give yourselves six months at least and if it happens faster, all the better.
Go in this for the long haul. You are already married to her. You loved her when you got married. You still love her and desire her. Put in the emotional investment.
And when you make mistakes. Make offers that are too big. Lose track of the larger plan. FORGIVE YOURSELF and ask her to forgive you. You are a sexual man who craves affection, intimacy, sensual release. That's a good thing, "B." Don't feel any shame in your desire.
Soon she will be so glad that you took her from negative arousal to neutral to positive, happy, sexy arousal and she'll love you for doing the hard work to step up and live through her pain, anger, frustration to come out the other side a loving, connected couple.
We women want you to make love to us. To give us great orgasms. To feel your hands on our bodies, carressing us, loving us, adoring us.
Believe it.
And take the first step.
Talk to her, "B."
And let us all know how it's going, but posting your progress here below in the Comments section.
We are ALL rooting for you both!
Grab a copy of our FREE eBook below to learn more how to seduce and make her fall in love with you again.