Increase your ability to pleasure your partner during lovemaking using these penis pivot and hip drop techniques.
What do you get when you take a dancer, a martial artist and a Tantric lovemaker, swirl it all together and add personality?
Billy Sunday Mars, author of a HIGHLY RECOMMENDED book, "Fit For Love."
"Your juicy loving words & ideas make me really look forward to fun sex every day. The way you talk about sex, it tells me how great it is for you. Plus, the articles you send out in your newsletter are beyond helpful and informative. Where were you all our lives? I also want to thank you for your FREE book on how to have More Sex More Often as loving couples. It turned my whole relationship and sex life a complete 180! Thanks!"
— Matt
Fit for Love: Hip and Core Exercises for Strength and Flexibility, Intimate Massages to Prepare Your Lover for Pleasure, and Over 20 Positions for Passionate, Sensual Sex
Billy is charming, articulate and full of information no one else in the universe is communicating that is so life-altering, it can increase your woman's sexual satisfaction by an order of magnitude.
As I leafed through the illustrations in Fit For Love, I realized, it wasn't a fitness book, it was a lovemaking book.
Penis angles.
Tons of penis angles.
And I can tell you…
this is IMPORTANT.
The angle of your penis as it is used during lovemaking can make a tremendous difference in our pleasure as a woman during coitus.
Though the book overall is dedicated to exercise routines that keep you in peak shape for lovemaking, the part that I found groundbreaking was the swivel pivoting advice Billy explains.
You can swivel and pivot your penis inside her.
And you can swivel and pivot your hips outside her.
Both swivel actions will cause you to hit the best spots inside her vagina during intercourse.
Billy uses excellent analogies to help you understand that micro-movements produce macro results.
Have you ever played pool? The cue has a pivot point where it rests on your hand. So does your penis.
"Swivel pivoting is much like a big gun on a fighting ship. If you move the gun down twenty degrees and to the left thirty degrees, the barrel will aim twenty degrees up and thirty degrees to the right."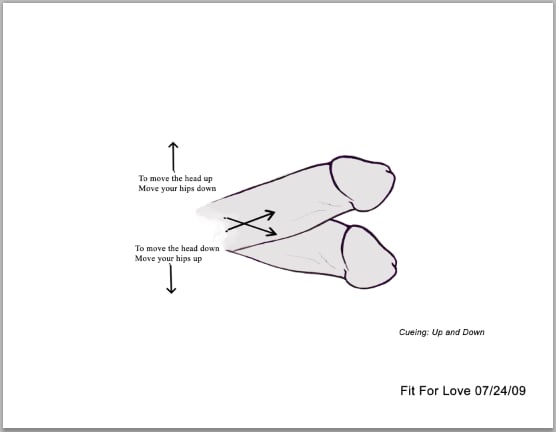 Billy has you draw a circle around a dime and notice how little motion it takes to stay on the area. He posits that, "A woman's inner stimulation points are literally a bundle of nerves and respond best to consistent pressure rather than intermittent pounding."
He says, "Once a couple has successfully started stimulating a point, if the woman moves back two inches and her partner moves back two inches, they have collectively moved back four inches and are off the spot they want to stimulate."
Mirroring and cueing skills, as well as how to "turn on a dime," help you become a more exacting lover, better able to stimulate her to orgasm through penetration.
With so many women struggling to orgasm during coitus, Billy's book can mean the difference between her satisfaction and frustration.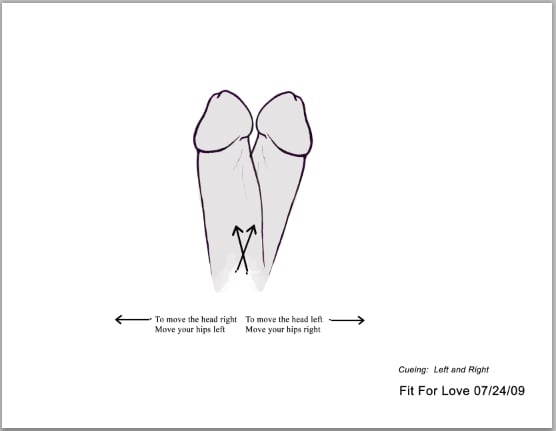 What I found most valuable was Billy's Hip Drop strategy.
When making love, I often request this of my man now.
"Baby, do the Billy move!"
Thank goodness my man is a patient woman-pleaser as I yell out Billy's name during a steamy session! <giggle>
As a dancer and martial artist, Billy shows men how to drop their hips to put "power in their pullback."
"Sex is like fishing: It's important to set the hook. In sex, this means using the ridge of the penis to rub the G-Spot, because the shape of the penis creates more friction on the pull back than on the push. If you move a little beyond the G-Spot first, a tight pullback motion while maintaining pressure on the G-Spot pleasure point is very pleasing for both woman and man."
You tuck in your hips and scoop your penis inside her, dragging the tip back across her G-Area on the upside, ceiling of her vagina, as you pull out.
It's similar to making the "come hither" finger movement inside her, only with your penis. Billy teaches you how to articulate your penis like fingers for more specific, less obtuse, stimulation.
You really need the book to get these swivel points and this diagram, but I can tell you that I IMMEDIATELY liked the Hip Drop motions my man was making the minute he started "doing the Billy move." So much so, I ask for it by name.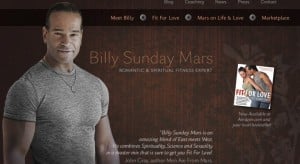 It's a sexy, powerful, delicious feeling to be made love to with this Hip Drop motion.
I never experienced this before reading Fit For Love. I'd never seen this in any instructional or other lovemaking video.
But it works.
It feels amazing.
It amps up the pleasure of intercourse a thousand fold.
And it's such a simple adjustment.
Buy this book just to learn the Hip Drop intercourse technique, even if you would never do a work out routine to be a better lover.
It's literally $6 bucks on Amazon right now. Pick it up and rock your world.
What sweetens this book for me even more is the whole chapter on How To Use A Bed Better. Billy updates Missionary, Doggy and Pin Down Doll coital positions with his Hip Drop and Swiveling refinements.
Then he illustrates another twenty or so updated sexual positions.
Then he adds a chapter on sensual massage. The goodness just keeps coming…
This book is a treasure trove of valuable intercourse technique fine-tuning for luscious orgasmic finesse.
No wonder Billy can fill up an entire ballroom with women who come to learn "Fit For Love" exercises. They are all there dreaming that Billy will give them some hands-on polishing!
Never has the intersection of dance, sex and martial arts been so richly blended to create groundbreaking yet simple updates to one of the most beautiful of our human pleasures.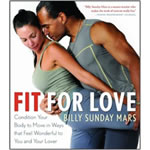 Get this book! It gets my highest rating. It ranks up there with Sheri Winston's book, "Woman's Anatomy of Arousal."
Sheri shows you where all the girl parts are. Billy shows you how to pleasure them with your penis.
If your woman isn't begging you for lovemaking nearly every night, you NEED these moves.
Your woman will thank you with her moans of appreciation for revitalizing age-old positions by moving slowly and closely together for exquisite sensations she's never before experienced, until now, that you're Fit For Love.
With Love,
Susan Bratton