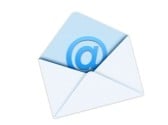 What to do if you didn't get your email from Sloane Fox.
Our email service will typically send you your first email within a minute of sign-up, so if you've watched Sloane's video and and you still haven't received your email yet, then it's likely something has gone wrong.
The most likely causes of the email not getting through are a spam filter, or a typo in the email address.
It's important to make sure you get the first email from us, because if the first one doesn't make it through, chances are that subsequent emails (for each new eBook of the month) won't make it through either.
Assuming it wasn't a typo, then the next thing to do is to check your spam filter or junk mail box. If you use an email program on your computer like Microsoft Outlook or Apple Mail, then it's a good idea to check the junk mail folder there first. If you can't find it there, then you'll want to check the junk mail or spam folder through your email service provide (such as gmail, hotmail, yahoo mail, etc.).
DON'T MISS OUT –  We're going to send you each month's SBOM by email, so check your email and confirm that you received the first one right now.
Note: Please make sure you add '[email protected]' to your "safe list", "white list" or "buddy list" so that your spam filter doesn't block us.
More Details On How To Add Sloane To Your WhiteList <=== Click Here For More Email Help
Frequently Asked Questions:
"I haven't received my first email!"
The first thing to check is that our email hasn't been mistakenly sent to your "bulk email" "junk email" or "spam" folder. (This is the most common cause of misplaced emails.) If this happens, go into your "junk email" folder and find the first email. Then do whatever you need to do to mark it as "not spam". This should stop any future messages from us going in the spam bin as well!
The next thing to check is that you entered your email address correctly. To do this you should go back through the signup process again.
"I checked my spam folder, it's still not there."
Although our system is usually very fast, sometimes it can take up to 5 to 10- minutes for emails to get through. This can be for any number of reasons. However, if it's been a few hours and you still haven't received it (and it's really not in your "spam" folder) then you might want to ask your internet service provider why your mail isn't getting through. They sometimes use "backbone level filtering" or "enterprise spam filters" that pre-filter your email before it even gets to your personal spam filter.
Alternatively, you might want to try sign up with another email address (if you have one).