Relationship Values Workbook From Revive Her Drive Program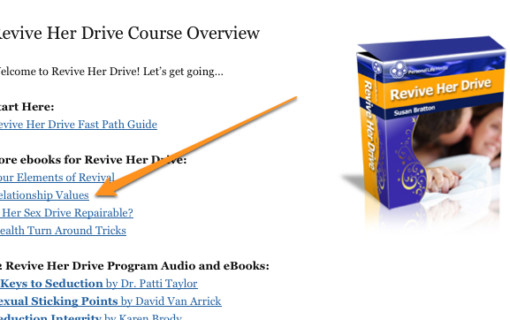 Here's an easy, fun activity you can do with your woman tonight that can have profound impact on your relationship immediately and forever.
[MP3 Audio] Listen Here for a How-To on Enjoying The Relationship Values Workbook™ (Easy):
Relationship Values – Susan Bratton
Download the Relationship Values Workbook™ from your Revive Her Drive online membership area and print it out. (You must be a customer of the Revive Her Drive online program to click here and download the Workbook.)
Over dinner tonight with your gal, see if the two of you can list your top 4 most important relationship values. Choose from the list of 80+ values I've put in the workbook or add your own.
Then rank order them and share with each other.
There may be a couple that you both share, but chances are, your woman is in relationship with you for very different reasons than you are with her.
Once you know WHY she's with you and what she WANTS from you, you can start to supply her with those needs and support her value system consciously.
She will do the same for you and suddenly, MAGIC will happen for the two of you again.
As long as you are both truly honest about what you want and you focus on giving your woman what she wants, rather than trying to guess and supply her with things you prefer, she'll start warming to you in ways you've never imagined.
This notion of giving each other a unique set of relationship values was one of the two most beneficial steps we ever made in deeply loving each other and having a significantly fulfilling marriage.
An added bonus, when you talk through this tonight at dinner with your gal, is that you'll be putting a lot of attention on her and in an area women really appreciate discussing.
She'll love the subject, the exercise, the conversation, your attention, the results and YOU!
If you're single, it's great to know your top Relationship Values so you can explain to people you date, what it is about being in a relationship that you are looking for in a partner. This should help in finding you find a suitable mate.
With Love,
Susan Bratton