Jewelry She'll LOVE That You Gave Her [Sensual Gifts]
We have this running joke at home that Tim has, "purchaphobia."

He's afraid to buy me gifts because he doesn't want to disappoint me (and I'm fussy).
Yet, if I give him a wish list, I miss the element of surprise and delight that is one of the best attributes of getting a present!
Do you have "purchaphobia" too?
Let me make your life EASY and your wife HAPPY.
Click here for Touchable Sensual Gift Ideas for Her

Click here for Visual Sensual Gift Ideas for Her

I have come to your rescue for this holiday season by selecting a constellation of rings, pendants and earrings that are so classic and elegant I promise she'll love any item you pick out.

A Gift That Expresses Your Love <=== Click Here To Choose
Get $25 to SPEND + Free Shipping Below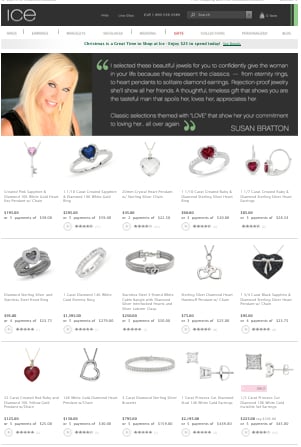 I selected these beautiful and AFFORDABLE jewels for you to confidently give your lady.
They represent the classics  —  from eternity rings, to heart pendants to solitaire diamond earrings.
Rejection-proof jewelry she'll show all her friends.
Get her the things on her wish list, of course.
AND SURPRISE HER with thoughtful, timeless gift that shows you are the tasteful man that spoils her, loves her, appreciates her.

A SENSUAL GIFT
You are opening your woman sensually – and jewelry is SENSUAL.
Jewelry is shiny, pretty and a sensual delight to both SEE and to FEEL when she wears it.

BACKSTORY
My buddy Pinny's family owns the biggest online jewelry retailer in the world, ICE. They are from Montreal and have built up a fantastic business because of their low prices, ease of exchange and return and their payment programs that allow you to pay over time for even inexpensive items.
If she wants to exchange your gift, she'll be fully supported in doing so.
But, if you single out one of the items I recommend, I can pretty much guarantee your wife will adore this symbol of your love.
Because these are classic selections themed with "LOVE" that every woman desires.
This jewelry is not expensive. Especially considering how impressive it looks for the price you pay.
I chose timeless, elegant, quintessential love objects for you.
If you get her something, let me know. I have never done this before, but Pinny gave me the idea of featuring my selections and when I thought about how it might help you with a big WIN at the holidays, I decided to go for it.
I'd be so delighted to see a picture of your lovely lady wearing her new jewels!
If you have any questions at all, just ask me.
Show her your commitment to loving her… all over again.
Happy Holidays!
Here's $25 to SPEND on nearly any item at ICE – it doesn't need to be from my recommendations – choose anything.
GET $25 TO SPEND on Fabulous Jewelry
+ Free Shipping On All Orders!
No Minimum Purchase Required.
Coupon Code: S11XM
Dates: 11/15/11 – 12/25/11

Offer Details: No minimum purchase required.
Exclusions: Not applicable on sale or clearance items, engagement rings, watches, The Persona Charms Collection or in conjunction with any other offer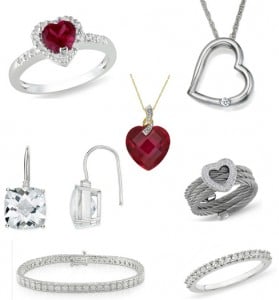 Note: I get a trivial bonus if you do purchase. Jewelry margins are tiny, so it's really more about tracking the value to you than anything I get financially. I just really want you to delight her, honey.
With love,
Susan Bratton