Watch This Movie About Your Own Success To Discover Your Invisible Barriers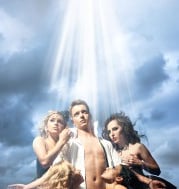 Are you exactly where you want to be in life… right now?
>>[If you're not, stop reading and watch this critical video now]<<
I know it's a tough question to consider but I want you to think about it and give yourself an honest answer.
The reason I ask is because over the years I've learned that so many people really aren't where they want to be. And it's not that they don't work hard, are not dedicated to what they do or even that they want happiness and success less than the people who 'have it all.'
But there is an astounding difference between those who lead a fulfilling and successful life, and those that don't. Surprisingly, it's not IQ, luck, hard work or dedication.
It's actually much simpler, and easier to master than any of those things.
You just need to know how… which is why I'm writing to you today.
You see, expert Personal Development Guru and host of The Inspiration Show, my personal friend Natalie Ledwell has cracked the code to success, and now she wants to share it with you.
In her presentation, Natalie opens up about her life before the massive success of her company, Mind Movies… back when she was an overweight, struggling entrepreneur who was swimming in debt, working 15 hours a day, and saw no way out.
She explains how she used to have big dreams of traveling the world, loving her work, and being able to work from the beach, but even through she was pursuing her goals, she was "anything but free."
It all changed a few years ago, and Natalie finally spills the beans on how she's managed to turn it ALL around.
[See how she did it right here and how YOU can too]
If you're over relationship drama, or if you can relate with struggling to lose those extra pounds, watch her video now, because she'll tell you exactly how to turn it all around…
Focus on exactly what you want your life to look like…
Using a powerful subconscious, subliminal program where you design your own destiny and achieve success in record time.
Design Your Destiny!
With love,
Susan Bratton