How To Intensify Your Erotic Desire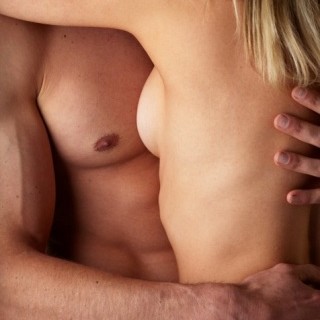 Do you want more communicative, more heart-centered, more passionate sex?
I have great news for you. You can register for this no cost online video summit and consume whichever video interviews flip your switch. . . for absolutely no money at all.
Using my registration link gives you access to 40+ experts who will provide inspirational approaches to relationship and sexuality that are fresh, outside the box, creative, and even a bit daring.
And I'm one of the featured experts in the FREE online Conscious Sexuality and Relationship Conference.
I will be speaking on: How To Intensify Your Erotic Desire:
1) How do you spice up your sex life?
2) What is Erotic Escalation and how does it work?
3) How do you increase your desire for sex?
4) How do you seduce your lover with integrity?
5) How do you increase your masculine/feminine magnetism?
Some of the Other Conference Topics include:
· Cutting edge research on sex, biology and the brain
· A deeper understanding of Tantra
· Evolutionary Psychology looks at relationship and sexuality
· Communication styles
· New visions in relationship and sex
· Mindful Loving
· Ancient wisdom teachings
· The psychology of men, sex and relationship
· The psychology of women, sex and relationship
· Modern insights from clinical sex therapy
· The sacred art and science of sexual healing
· Understanding sexual trauma
· New tools for navigating relationship challenges
· The future of love and relationship
And lots more!
You'll enjoy a truly diverse group of experts including:  Arielle Ford, Dr. Geoffrey Miller, Anyaa McAndrew, Tammy Nelson, Charles Muir, Henry Grayson, Richard Anton Diaz, Nicole Daedone, Caroline Muir, Deborah Anapol, Dr. Jenni Skyler, Dr. Patti Britton, Dr. Jen Landa, and lots more, including me. It's an incredible community of teachers and wisdom-leaders. The goal is to create an exciting, honest, and powerful new conversation that allows us to discover our truest sexual and relationship potentials.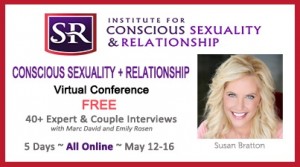 I hope you'll join us!  It doesn't cost anything unless you want to purchase all of the videos in a package.
If you want to get them all, the best deal happens before May 13th. So don't delay.
What you need to know:
Dates:   May 12-16th 2014
Location:   Online
Price:   FREE
Sign up online NOW:
Mark the date !