Text Your Wife Into Bed… Sext ME Into Bed, Please!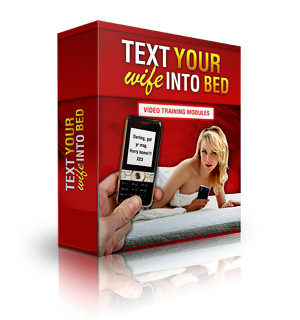 This product from Michael Fiore is SO HOOOOOT!
Michael is a friend of mine and his talent is writing marketing copy. He's also manly, very sensual and obviously has great sex, based on our hot conversations.
Put that in a blender and what do you get?
He actually teaches guys to use SMS to get their wives and girlfriends all turned on and ready for great sex.
I love this product.
Here's what's so cool about it. Michael has written all the texts out for you so you can be a bonehead and still get laid.
And there's TONS of texts you can mix and match.
Here's what's even better… Text Your Wife Into Bed can work for you even if your wife hasn't gotten turned on for a loooong time. The very first eBook that comes with the product (there are great tutorial videos too) is "The 4-Day Ice Breaker."
If you need to break through that ice that's frozen over her delicious little pussy, use THIS as her first heat treat.
Michael says, "I created an ice breaker for guys to "raise the heat" on their wives over a few short days so they wouldn't be SHOCKED and APALLED when the truly dirty, sexy, fun stuff started to come their way. (It's kind of like cooking a frog. You've got to raise the heat gradually so the little guy doesn't hop out of the pot.)"
When she's thawed, you use the "Dead Simple 1… 2… 3… Checklist" where you send "curiosity pivots" and "multi-sensory stories" and "anticipation builders."
Women love to get turned on by stories. And we love it when you are thinking about fucking us. This is a great, stealth way to share your turn-on where we can receive it and don't have to fight it so much.
And because you text it to us, you don't have to worry about how it sounds when you say it out loud. It will sound so sexy to us in our mind when we read it. YUM.
Being naughty over text messaging is so hot. I have been doing it with about 5 different hot guys for the last few months myself. I tell sexy little stories in serial messages over time. Letting the guys linger for days, if not weeks, between my unveiling of a fantasy. They love it. I love it. And your wife and/or girlfriend is going to love it.
Using Michael's "written for you" content makes it so easy. And there are tame and totally wild, hot, naughty versions, so you can mix and match to your gal's personality.
Dudes, buy this and do it! I wish I could give you my cell number so you could practice on me. This is so hot.
Imagine…

Neck…

Shiver…

Nibble…

Explode…

Ravishing…

We lock eyes…

You feel my fingers in your hair…

I can't stop thinking about…

I'm going to…
Sounds like a romance novel, eh? Well, that's what we like!
So give it to us.
Now…
Please?
I'm begging you.
Ahhhhhhhhhhhhhhhhhhhhhh…
Oh, yeah.
With love,
Tallulah Sulis