"It's Very Likely There Is Just ONE THING Holding You Back From Massive Success With Women"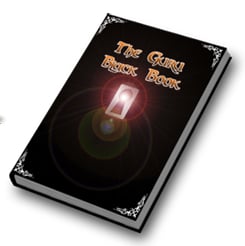 If you were to ask me, "what is the #1 reason guys fail with women?". . . I could not
give you an answer.
That's because every guy is unique.
And that's the reason that Brad Jackson and Bill Preston created The Guru Black Book that you've been hearing about.
It's unlike anything you've ever seen before and I know this because I have
personally reviewed it.
SLOANE'S GURU BLACK BOOK REVIEW
And you can too TONIGHT – Thursday night, 10/28.
LIVE.
This is a live exclusive event for only 1,000 people where Brad and Bill peel
back the curtain and show you why it gives you a shortcut to your learning
curve.
During This Webinar You Will Discover:
The fastest way to eliminate the ONE thing really holding you back from success with women
How to shortcut your learning curve and…
Piggyback on the success of proven masters with women
Get REAL answers to the situations you face daily about meeting and attracting women
Find out which Gurus were "interrogated", which 25 questions they were asked and how you will be able to access their advice in a groundbreaking new format.
This is a one-time-only event and attendees will have the opportunity to get access to the The Guru Black Book which is not yet available to the public.
Reserve Your Seat Here:
Rumor has it that people who show up to the call WILL get a chance to access The Guru Black Book for themselves… before it's ever released to the public.
Knowing Brad and Bill like I do, they'll probably make it worth your while for
showing up. They're cool like that.
Note: If you didn't see my review of The Guru Black Book, here's a link to it: