Review: Guru Blackbook "What Is Your Sticking Point with Women?"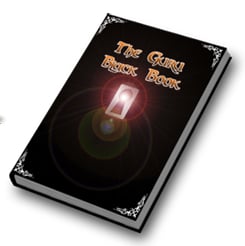 The Real *Reason* Why You Don't Have Your 'Perfect Girl' Yet
There are four areas where men typically struggle with women. Do you know what they are? Do you know your primary constraint or 'sticking point?'
For women to find you attractive, you may have to do some 'inner work' to make sure you are confident, conversational and comfortable with them. Here's an efficient and organized approach to shoring up any places in your life where you need extra skills, advice or strategies to attract and enjoy a great woman.
Are you aware of an entire sub-culture across the world of "Pick Up Artists?" Called "PUA's," these are self-help gurus for single men. And some of them are so thoughtful, and so wide-ranging in their expertise, that they have developed thousands and thousands of raving fans who work their advice to create more personal authority which leads to more success connecting with truly quality women.
Sure, there are PUA's who teach sleezy pick up maneuvers, you've seen Mystery on TV or read 'The Game.' Conversely there are experts, like Carlos Xuma and Scot McKay to name two, who have built a career from giving superlative, targeted advice to single men who want to live a life of rich success.

The Guru Black Book, created by Brad Jackson and Bill Preston, two seduction experts who have the integrity of clergymen, the brains of professors and the charm of international playboys, is one hell of a smart program.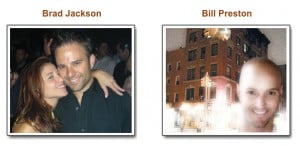 Designed to give you lightning speed answers to the most common pick up, dating and seduction questions, Brad and Bill selected 28 high-quality experts, based on the caliber of their advice.
The Guru Black Book is designed to efficiently remove any obstacles hindering your ability to find and date 'the perfect girl.'
The ambitious process easily identifies YOUR personal "sticking point" and targets possible remedies from a myriad expert perspectives.
Do you have confidence or "inner game" issues?
Do you need help approaching women?
Do you fall apart after approaching her when it's time to make conversation and spark attraction?
Or are you making lots of "girl-friends," but falling flat when it comes to seduction?
Historically, these are the four areas where men struggle in getting into a good relationship.
So how does The Guru Black Book "fix" you? By giving you exactly the information you need to get past your stuck spot – from nearly 30 different perspectives on the same subject area.
The strategy behind this program is brilliant:
Called The Brick Wall Manifesto, (as in, get through that brick wall to the women on the other side) first you take a quiz which identifies your "sticking point," then you read an ebook that has you probe more deeply into your current limiting beliefs with a 5-Step method for identifying and eliminating your primary constraint.
Click Here to Download The Brick Wall Manifesto eBook
Of course you can take the quiz and then just listen to or read the advice in that section from all the gurus, if you're lazy, like I. . .
Find Your Sticking Point
According to Brad, in some early results, guys started off answering the question which makes them most nervous.
It's almost a dead heat:
Inner Game:  25%
Approaching: 17%
Conversation: 28%
Seduction:  25%

However…by the end of the quiz, the results look like this:
Inner Game:  40%
Approaching: 7%
Conversation: 20%
Seduction:  33%

Brad says, "BIG difference…this is because on many of the questions we ask WHY is this harder…and if they answer a certain way, it takes them down a certain path. If they say they're approaching BECAUSE they have a paralyzing fear of rejection, it takes them to inner game questions and so on.

Interestingly…64% of guys who find having a conversation the most nerve racking thing say they NEVER use any "routines."
Fascinating that self-confidence, both personally and sexually, are the ultimate sticking points for the self-selecting men who take this survey. Men who are interested in using skills that teach them the confidence they need to get that 'perfect woman' are willing to work on self-improvement.
Yay! Go, men, go!
The most amazing thing about The Guru Black Book are the unique answers the 'gurus' give to the most common issues. Here are examples of questions from the Confidence and Seduction sections:
Confidence And Inner Game Questions
1. How do you overcome the fear of rejection?
2. What is the quickest & easiest way to develop self-confidence?
3. What do you tell a student who feels that he is physically unattractive to girls?
4. How can a 'nice guy' compete with the 'bad boys' without having to act like a jerk?
5. What do you do to get into the mindset to go out, have fun, and meet women?
Sexual Tension And Seduction Chapters
1. How do you generate sexual tension without sounding creepy?
2. How do you know whether to ask her to your place or to just get her number?
3. What do you do or say to get a woman back to your place?
4. Once you are back at your place, what do you do?
5. How do you know when it's time to ask for a girl's phone number?
6. How do you increase the probability that a girl will not flake on you?
7. Where do you like to take a girl the first time you hang out together?
8. What do you say if a girl asks if you are dating other women or calls you a player?
When you access The Guru Black Book, you go to a web page that has audio answers from 28 experts to each question. There is also an ebook with the answers, if you are visual instead of aural.
Now, in my opinion, some of the advice is NOT GOOD. This is a woman's perspective, and I have not studied or field tested any of this advice, so what the hell do I know. . . But, some of the ideas positive seem overly manipulative to me. Perhaps they are created by men who feel marginalized and think they need to have "tricks" to get girls?
The section covering "how to get her back to your place" is laughable in areas. Maybe it works with 20-somethings. But there's a lot of room for authentic relating at a mature level in this section, particularly. On the other hand, the things guys will do to be with us are impressive and some of the ideas are really clever!
Here's one question:
"Where do you like to take a girl, the first time you hang out together?"
Remarkable ideas included the multiple venues that degrade in quality and end up near your home; the activity dates (cake decorating???); and the date where you show your personal authority for suggesting where to go, instead of waiting for her to suggest. Someone even said to, "tell your date to wear a skirt" so you could have sex with her more easily!
(Men go to such tremendous effort for us. Awwwww… Love you guys!)
I just got a super nice hit of appreciation for what we all go through to find love, passion, intimacy, depth, and being seen for who we are.
If you are not currently enjoying a beautiful woman in your life and in your bed, you have nothing to lose by taking the Sticking Point quiz.
And The Guru Black Book is chock full of clever ideas that can transform your success with women, written by experts who spend their waking hours helping guys get girls.
THE EXPERTS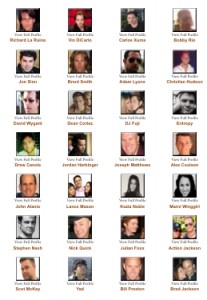 In complete transparency, if you decide to access the program, and you click on the links in this blog review, I may receive a small compensation for creating awareness of this excellent program.
To me, that's a win:win:win. You get the girl. Brad and Bill get to support you. And I get to tell you about this awesome program.