Review: Squirting Orgasm Mastery – 2 Girls Teach Sex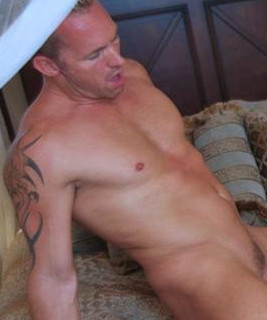 Giving a woman an ejaculatory (squirting) orgasm is exciting for him and a deep and delicious release for her.   Whenever I see new products on the market about ejaculatory orgasms for women, I'm quick to review them for you.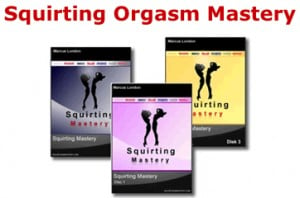 Squirting Orgasm Mastery
  The latest teaching program is from the 2 Girls Teach Sex team in LA. They create sexual education content using porn stars.   The good thing about this concept is that they get beautiful women, who like to showcase their sexuality, to teach you sexual techniques. Men like this.   The bad thing about using sex workers, is that "your average woman" may find hard to relate to Sindee, Aiden, Hannah, Monique and Tori.
  In all fairness, only one of the five women  in the program had much experience with ejaculatory orgasms in "Squirting Orgasm Mastery." So the video was based on the premise that Marcus London, a man who bills himself as having given over 300 women a squirting orgasm, was going to show that it's so simple, you can give your woman a wet orgasm too.  
My Big Problem With Squirting Orgasm Mastery
  Marcus, with his gigantic biceps, uses the same, extremely vigorous pumping stroke on every woman. Replicable technique? Definitely. Appropriate for every woman? NO.   His technique looked like he was milking a cow while hammering rebar into cement, not coaxing a woman's delicate G-Area into multiple, liquid orgasms.  
He would jam two fingers inside her (rings and all, egad) and pump like hell. He was VIGOROUS.
Lordy, lordy, my little vajayay was shriveling up in pain just watching him whale on those poor girls' sweet little pussies.
  Sure, you can pound on a woman's G-Spot and if she's used to putting her genitals through their paces on a daily basis as a profession, she might need that much sensation to ejaculate.   But I can tell you, if you want to give a woman multiple, liquid orgasmic releases, you should start very slowly, and warm her up considerably.
  To their credit, the Squirting Orgasm Mastery producers DID show Marcus giving Tori some foreplay – making out, a little clit play, and I understand customers want to see SQUIRTING, not foreplay on the DVD, so they did address this.  
A Better Way To Give Her Multiple Ejaculatory Orgasms
  If you want to give a woman ejaculatory orgasms, I do not recommend using Marcus' ham-handed strategy. Yes, you can beat her juices out of her, and it makes for fun DVD entertainment, but for your gal, I'd heartily recommend you start sloooooowly, first with some genital massage, awakening and engorging her whole vaginal area. Then give her a few delicious clitoral orgasms and make sure she gets a nice clit boner. Feel the shaft of her clit, rub your fingers around it. Get her moaning and squirming.   Then slowly work one finger inside her to stimulate her G-Area. Then after a few more minutes, ease in another finger stroke and wait until you see her G-Spot start to balloon and jut out of the opening to her vagina.  
  By that time, she can start to take more pressure and multiple fingers. Once her G-Spot is peeking out of her vagina, you can give her the come hither, barrel roll, windshield wiper and other strokes Tallulah teaches in Female Liquid Orgasm. Doing this as you stimulate her clitoris, for a blended orgasmic experience, is sensual Nirvana for the women I know.   At THAT point, you can try Marcus' jackhammer move if you let her know you are going to do it, and she says it's ok.  
If she's responding to that amount of pressure, you have a girl who likes a lot of stimulation. This will feel amazing to her. If your woman frequently says things like, "More, Baby, give it to me, really give it to me." Chances are, you can be vigorous like Marcus in your G-Area stimulation.
The Results of Our Field Test of Squirting Orgasm Mastery
  After watching Squirting Orgasm Mastery, hubby warmed me up as usual, and near the end of our "coming session" where I was receiving his manual stimulation for about 45 minutes, he tried the Marcus Jackhammer on me at about 30% of the vigor he saw in the DVD. It was too, too much for me. OW!   I said, "What are you doing?" "You are driving me too hard!"   It felt like it was making the skin inside my vagina very tender, hurting me. The pressure wasn't as big a problem as the rapid stroking. It was just too, too much.   Then again, my whole vaginal area is able to be stimulated and turned on from feather-light strokes, from medium strokes and from even more pressure inside on my G-Area and deeper inside my vaginal canal. I can simply FEEL A LOT from years of Expanded Orgasm sessions and having ejaculatory orgasm after ejaculatory orgasm. So I can get stroked and have multiple, expanded orgasms for 45 minutes straight, very easily, and it simply takes gentle strokes to keep me coming and coming.  
The Fun Parts of Squirting Orgasmic Mastery
  I enjoyed watching Marcus make each porn star squirt. It was fun to watch their reactions. If you enjoy pseudo-educational adult content, it's entertaining. And, because it's "educational," you might get your wife to watch it with you.   I wish Marcus had taken off his clothes. Having the girls in lingerie and Marcus clothed was a missed hotness opportunity for me and for your wife or girlfriend.   You're a porn star, dude. Take off your sneakers…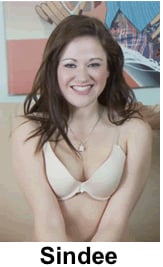 My very favorite part of Squirting Orgasmic Masterywas Sindee Jennings. I don't watch porn, unless my friends send it to me, so I don't know any of the porn stars. Sindee embodies the perfect combination of little slut and smart woman. She loves squirting orgasms and did a fantastic demo at the end.   She literally squirted all over the couch, behind her, her face, Marcus' face – that girl can go the distance.   She's adorable and you could see how much fun she was having. That made the ending really, really pleasurable and sexy.  
Bottom Line – Should You Shell Out $97 Bucks?
  Definitely. If you are into female ejaculation, it IS fun to watch five women squirt. They are pretty and they are good sports. If you decide to use Marcus' technique, make sure she likes pressure that firm and stroking that fast and warm her up A LOT first.   CLICK HERE to buy if you've enjoyed my review. It will get you a bonus of Advanced Sex Positions for Killer Orgasms.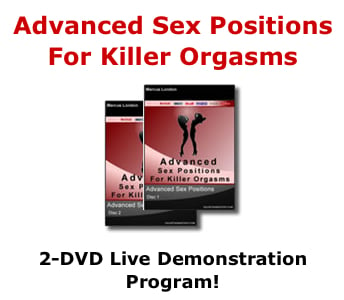 UPDATE: I had a chance to watch the Advanced Sex Positions for Killer Orgasms bonus DVD's.   This is FUN! The first position they showed was this one.   OMG.   That's awesome. At my advanced age, I think I'll stick to watching Marcus and Tori. The positions they demonstrate are fun and you can treat your lover to some popcorn and giggles. And you might just find a new position you can try!
  Note: I'm sending Marcus a free copy of Female Liquid Orgasm so he can widen his range of moves and techniques and add to his body of knowledge.   Obviously he likes to make the girls squirt.   And I like that about him!   With love, Sloane Fox  
Get our free eBook below and discover sex techniques that give your woman squirting orgasms.