The more I know about anatomy, the better I can visualize it in dimension and the better I can make a man or woman feel sublime by stroking different areas in different ways.

I unearthed a treasure trove of new anatomical information about female genitalia today on a double episode of Expanded Lovemaking. (Dr. Patti's free podcast – it's sexy and educational) Specifically, information about how to engorge the whole erectile tissue network in a woman's Yoni (pussy). Read about vestibular bulbs and how they can help a woman orgasm with intercourse below.
Just recently I learned about the Fourchette (love those Frenchies!) and the Front Commissure in my HotLicks review. Now I am opening up new neural pathways to both areas of my Yoni for even more delicious sensation.
This two part podcast gave me even more areas of my vulva to play with and engorge for more orgasmic pleasure.
Below are the links to listen to both episodes. And I've put some of the highlights from the show below for you if you prefer to read than listen:
Secret Maps to Sexual Pleasure (Part One) with Sheri Winston


Orgasmic Abundance (Part Two) with Sheri Winston


This is the book Sheri was finishing at the time of the review. I just purchased it. It got the 2010 Book of the Year from ASSECT, which is the Sex Educators association – a very elite crew of experts. Sheri is impressive.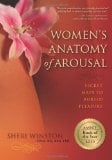 The Erectile Network

Sheri Winston: The erectile network begins with the head of the clitoris, the part that everybody already knows about that is indeed made of erectile tissue. Then there's the shaft underneath the hood of the clitoris. If you put your fingers on the skin right above the head of the clitoris and push down under the skin you'll feel a roundness, and that's the shaft of the clitoris and that is made of erectile tissue.
At the base of the shaft the clitoris splits into two, it has two legs like a fat fishbowl. When it divides, one leg on either side, kind of like a wishbone, but buried under a lot of tissue. At high level arousal you can also find the tops of the legs.
Dr. Patti Taylor: Where are they?
Sheri Winston: So once you've found the shaft, put your fingers a little bit wider apart, feel through the skin, and at high level arousal you might be able to feel kind of these ropey tops of the legs of the clitoris.
Every woman is different, so for some women they will be able to feel them more easily at lower levels of arousal. Other women will be easier to feel at high levels. But if you can find them then you want to sort of follow them down and see how far down you can follow them. They will at some point get buried under too much tissue to really feel, but it's a fun little game to find out how much of them you can feel.
Okay, we'll that's just the parts of the clitoris. The next part of the erectile network are what are called the vestibular bulbs…
Vestibular Bulbs

Now the vestibular bulbs are like two big fat parentheses. They're underneath the outer lips, there's one on either side, and the bottom part of them, which is very fat and bulbous, is on either side of the vaginal opening. But they run up along the sides and they actually attach to the shaft of the clitoris.
They're underneath the outer lips, and they like firm, raw stimulation. You know how sometimes you're making out with somebody and they've got their thigh pressed up against your whole crotch? The reason that feels good is that's stimulating the vestibular bulbs. And the bulbs are great 'cause they get huge. You should have a handful of pussy when you are getting her aroused. And they're like a penis. You just start playing with it, it's limp and it just puffs up in your hand like the Pillsbury Dough Boy. When they get really big and puffy, the sensations around the vaginal opening are better, and it also is connected to the clitoris.

When I first started having sex I did not have orgasms from intercourse, and over half of women don't have orgasms from intercourse. Now there's a number of reasons why that is so, but one of the reasons is because we don't know about the bulbs. And if you don't know about them and if you don't play with them and they don't get big and puffy and erect, then it's not going to feel as good when you have something inside your vagina.
But when those bulbs are big and puffy, well then it's like, oh, not only does it feel great to have something there, it also connects up with the clitoral system.
[Sloane's Note: When hubby gives me an expanded orgasm, he first gives me a massage and rubs my labia majora between his fingers, puffing them up. The vestibular bulbs are underneath those big outer pussy lips.]
With love,
Sloane Fox
Download our free eBook to learn more about female orgasms.