Dirty Talk, Dirty Texting, Erotic Vigilance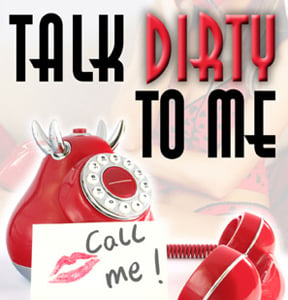 I had a flash of insight today about talking dirty while having sex with hubby.
Since I learned that I'm "aural in my theta state*," which means I like to hear things (like moaning and dirty talk) when I'm turned on. . .
and it makes me more turned on. . .
While we were having sex, hubby was talking dirty to me. But it wasn't gross, it was sweet and sexy and hot. And he was moaning and growling his pleasure (WHOOIE!) on top of talking dirty.
The way he was talking dirty to me was an excellent example of "Erotic Vigilance."
Erotic Vigilance is the
noticing and stating of what is happening

with a woman in that very moment.

It's very present.

It's one of the Four Keys to Seduction I learned from Dr. Patti's new Seduction Trilogy. (ebook + audio book series)
The dirty talk wasn't "dirty," it was a running commentary of my experience.
"You love it when I pin your legs back like this."
"Your pussy looks so swollen and delicious."
"I love the way your breasts bounce when I'm fucking you."
"You're such a sexy little vixen."
What turns me on is that it's "safe" dirty talk. It's not declasse, not lewd, I don't feel like hubby is making me into a slut. It's just hot, and juicy, and gets me even more excited.
Which reminds me of Text Your Wife Into Bed. Another great way to add some dirty talk into your sex life. . .
I reviewed the TYWIB program, and it teaches a similar strategy.
Here's a basic example of how the Text Your Wife Into Bed technique works:
Generally the first thing you want to send is a "curiosity text."
This is a text you send to get her attention and basically DEMAND a response.
So you would say . . .
"I can't stop thinking about . . . "
(Notice that with the ellipse (. . .) it's an incomplete thought. That's important.)
Invariably she'll answer with something like . . .
"Can't stop thinking about what?"
At this point you've got some options.
The "clean and romantic" option is to say something like "How much I love you." or "How important you are to me." or "How lucky I am to have you."
The "medium" version is to say something like "The shape of you" or "How beautiful you are" or "How you felt in my arms last night."
And the "advanced" version is to go whole hog and say "How fucking beautiful your ass looked this morning when you came out of the shower."
Or . .
Well, it gets DIRTY from there. . .
But as you can see, there are various "levels" that escalate from sweet to dirty.
The key to success is to figure out what level you can use with your woman RIGHT NOW. Most guys are amazed at how quickly they can "raise the heat" and get to the dirtier stuff.
After that first exchange you move into the fantasy aspect of the program, basically TELLING HER A STORY that engages her sexual mind in a way it's probably never been engaged before.
It's really fun.
So dirty talk can be used in the bedroom or via text. And if you find she loves it and you are really good, you may want to try David Shade's Give Women Hot Phone Sex program too. (I love this stuff!!!)
If you haven't get tried this kind of dirty talk in the bedroom with your woman, give it a try.
Start slowly and just use a low, deep, growly voice to say really sweet things your noticing about her that are turning you on.
Use your best Erotic Vigilance and do it one time, then tell her you're trying something new and you want her feedback so you can make it exactly how she'll enjoy it best.
Let me know if she loves it! And if she doesn't, see if she's more visual or kinesthetic when making love.  She might prefer silk sheets and warm oils. Or she might want watch a "movie" of you two having sex – just hook the camcorder to the TV and don't actually record it, or give her the tape when you're done.
Every woman is stimulated in a unique way, likely completely different than what works for you. Figure out what you like too and ask her for it. Most importantly, have fun.
*I read this free transcript of an interview with Raj, a guy who, depending on the woman he's fucking, will either focus on arousing her visually, through auditory stimulation or kinesthetically (through touch).
Download our eBook for FREE below to learn more how to make an erotic sex talk with your woman.