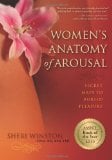 I can't stop thinking about Sheri Winston's new book, "Women's Anatomy of Arousal." I really LOVE this book and have reviewed it here on my blog, of course.
But today, I was describing it to a friend, and in the telling, I connected the dots on Sheri's work in a new way that I wanted to share with you.
Sheri talks about women's genitalia as a "system." She looks at the erectile tissue network as a "network" of interconnected parts that when fully stimulated, bring immense pleasure to her.
She also looks at the alimentary system and all her orifices as a system. Open your mouth, it relaxes your vaginal and anal openings – it's a TUBE.
I've learned to open, open, open – in my quest for multiple expanded O's and squirting O's, it's all about opening, not crunching down to squeeze out that measly clitoral O.
Further, Sheri talks about the system of breath, sound, touch and "pelvic pumping" to take a woman's O experience higher.
This pelvic pump is the Tantric version of the root chakra (muladhar) or in Yogic terms, the Sushumna. It's also the same area you "exercise" when you do Kegels. The importance of the pelvic floor is vital in many ancient teachings.
Four years ago I hadn't heard of any of this, now I am starting to see the interconnectedness.
Open, Breathe, Pump, Engorge – magic words for expanded sensuality.
With love,
Sloane Fox
Get our free eBook to learn how to take her Orgasm experience higher.
[ois skin="DC How Expanded O Can Take"]