Top 10 Things She Wants You To Notice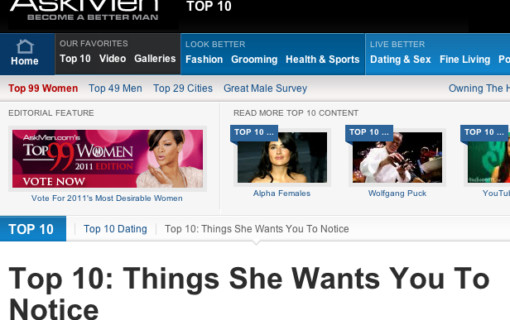 Ask.men reported the top 10 things she wants you to notice:
Her Lingerie
Her Hairstyle
She Prepared a Special Occasion
She Got Dressed Up
She Got Waxed
She's Been Working Out
She Cleaned Up the House
Her Scent
That She's Funny
Her Shoes
She wants you to notice little things about her, which is what Dr. Patti calls "Erotic Vigilance."
Erotic Vigilance is one of the Four Keys to Seduction.
The other three are Small Offers, Vulnerability and Vision. They work in synergy to give her what she's biologically wired to want before she can allow you to seduce her.
You can learn the Four Keys to Seduction today and use them tonight whether you're in a bar trolling for a one-night stand or you've been married for 50 years.
In addition to being sexy when a man is practicing these 4 keys to seduction, they improve the overall relationship, satisfaction and happiness for both of you.