Why I Love Sex Now, After 25 Years Of Not Really Enjoying It…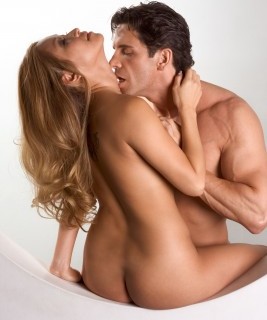 Through my twenties and thirties to my mid-forties I liked, but didn't LOVE having sex. Sure, there were some men who were better in bed than others, and at first it was sexy with my husband, but sadly, my interest waned with him too.
Now I know why.
And what changed.
And how come sex feels so great to me NOW and never even approached 25% of the deliciousness it does for me now before I knew this one vital thing:
It comes down to knowing the difference between arousal and engorgement.
For the sake of true clarity, I'll define the two uniquely.
Arousal is that feeling of turn-on, of wanting to have sex. In this case, I'm trying to load the word arousal as being more brain and less body-based.
Engorgement is when
is stimulated such that it gets engorged with blood and becomes pillowy (or stiff, in the case of a man's erection).
Note: A woman has as much erectile tissue in her clitoris, labia, perineal and urethral sponges as a man does in his penis.
When I was younger, I'd get turned-on thinking about having sex with a guy. We'd kiss a little and perhaps have a bit of foreplay and then proceed to intercourse pretty quickly. All told, a lovemaking session might last an hour.
Now that I've taken many sensuality courses including the ones here at Personal Life Media, I've learned, with hubby, the sensual skills to enjoy long, pleasurable warm ups that get my genitals engorged well in advance of intercourse.
Sometimes we start with massage, then have an DO Date*, then have some oral sex, then finally, when everything is fluffy and engorged, we have intercourse.
And when we take the time for this engorgement, every stroke, every lick, every touch feels more sublime.
I attribute the fabulous sensations and deep satisfaction of our lovemaking to the long, slow warm ups…
The massaging and touching of inner and outer labia, the light, steady rhythm of Expanded Orgasm clitoral strokes, the teasing and stroking of my G-Area (urethral sponge) and inside my vagina, all the way along my Fourchette and perineum outside my vagina, my back, my buttocks, my breasts (not just the nipples, my entire breasts, my neck, lips, nose, ears — you know all those sweet little places she loves you to touch, lick and stroke when you are truly making love to her.
In our mid-forties, hubby and I finally slowed down, put focus on our touch and arousal and warm-up and our sex life exploded in pleasure, joy, intimacy and satisfaction.
It takes me 20 minutes just to settle, connect with hubby energetically, get into my body, start to feel that blossoming arousal. Soon my clitoris pops. (Tallulah calls it a "clit boner") The tissue in my whole vaginal area gets puffy. And everything starts to feel exquisite.
So no matter how much I mentally want to have sex. No matter how hot, sexy or turned on I feel. No matter how "aroused" I am. It's the ENGORGEMENT that makes the difference between sex that I even sometimes regret to sex in which we revel with pleasure and orgasmic deliciousness.
I find that quickies are just not that interesting. They always leave me wanting more feeling of pleasure. Taking that 20 minutes at least to get my tissue engorged by stroking and licking makes all the difference in my enjoyment and pleasure.
We have learned to slow down, to turn on, to fluff up first for maximum sensation and orgasmic bliss.
Try this for a month. Don't have any intercourse until your woman is engorged. Look at her Yoni a lot during your foreplay. Watch it get fluffy. Describe it to her so she can hear and feel (get out a mirror if she's willing) and see how her genitals look when she's engorged.
Then have sex.
And tell me if she experiences an appreciative difference in increased pleasure.
I want to see your comments below.
*DO Date means an Expanded Orgasm clitoral stroking session that's like an orgasmic genital massage. DO = Deliberate Orgasm. We also call it OMing – Orgasmic Meditation. Different words, same practice.