Advice to a Friend I Fixed Up on a Blind Date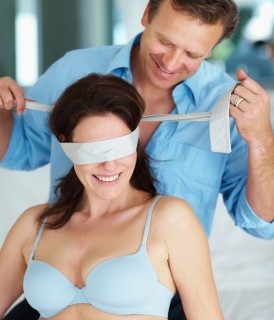 As part of my job, I am on sites like OK Cupid and Adult Friend Finder to see what is happening with people in the dating and hook-up world. It is market research for me. But once in a while I unearth a cool person in my wanderings.
I recently connected with a super cool guy named Don and thought he'd be a great guy for one of my favorite girlfriends. I introduced them and they have a date this weekend!
My girlfriend is a CEO. She's a powerhouse. But I know for a fact, she'd like to meet a guy who is man enough to take care of her and let her release into her femininity.
Here's my coaching email to my friend Don about what he might do this weekend to get her to relax and have fun.
Don,

You are doing the right thing by meeting her at the cafe where she suggested. You can imaging that female CEO's are control freaks.

What she desperately needs and doesn't even know is a solid, strong, masculine guy to take control so she can relax into her feminine.

If you are ballsy, meet her at the cafe and tell her than in half an hour, you have a surprise for her. You want to make sure to establish enough trust with her in the first 30 minutes, so that she'll let you transport her into a fun, pleasurable experience. Ask her to pepper you with questions until she's satisfied that you are trust worthy.

Then find a way to transport her and take charge.

For example, you could take her to the Rodin sculpture garden at Stanford and bring some treats to eat and a camera to do some photos.
Or you could take her to some beautiful garden for a stroll.


How can you get her out of the control and into some trust and surrender?
How can you get to to let you transport her?


Another simple, sexy transporting thing you can do right in the cafe  is order a cookie plate or dessert sampler and cover her eyes and feed her each item and have her guess what they are.
Covering her eyes is sexy, encourages surrender and is transporting, while still being very safe.

Also, make sure you get the door, her chair, put your full attention on her and when she gets bossy, act like the big daddy and tease her into her little girl self.

See if you can cull out her femininity. Give her compliments like, "I could see what a graceful woman you are just by the way you walked across the room when you arrived," or "there's a clarity to your eyes that tells me you are illuminated from the inside." What ever feels authentic and ties something specific about her to the beauty of all women/goddesses.

Also, she likes esoterics, like numerology, astrology – ask her about that. Or about growing up a Southern Girl. Ask her about what she finds most fun and relaxing when she's not at work. Don't talk business. Keep her OUT of CEO-mode.

Make sure you touch her as well. And touch her early. Just a hand on her forearm or a touch to her shoulder or move her hair out of her face – something very sweet. That shows confidence and sexiness without being too forward.
I will report back how it went to you, dear reader.
With love,
Sloane Fox