Brownie Points! 7 Cost-Free Gift Ideas That Show Your Love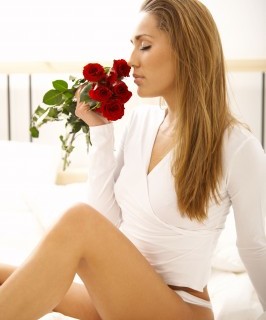 When you give a gift to a woman, no matter what it is, it's important to "give the gift the right way."
What is the "right way" to give her a gift?
Underscore you intention. It's the way you give her the gift that makes a huge difference in her appreciation. Making the giving a little ritual, a little ceremony, imbues it with that much more love and affection for her.
Instead of dropping a box of chocolates and card on the table at dinner think about these five simple ways to emphasize your love and the gift-giving moment:
1)    Place
2)    Preamble
3)    Gift
4)    Thank you
5)    Hug
Place – stand her up and take her someplace else. To the sofa. Out on the back porch. Just move her to a new location. That makes it feel special.
Preamble – tell her you are giving her a gift because she's so special to you.
Gift – hide the gift and reveal it for added sweetness.
Thank you – thank her for being special in your life as you hand her your gift.
Hug – follow up the hand off with a hug before she unwraps it.
These simple acts of preparation and ceremony will give her time to get into the moment and feel very appreciated by you. Your attention and affection may be worth more to her than the gift itself. So don't squander an opportunity to make it really special.
What KIND of free gift will she appreciate?
Use a positive feedback loop, as recommended by Tallulah Sulis to figure out what she'd really like.
What's a Positive Feedback Loop?
Build from a place of strength in your existing relationship to figure out something meaningful that she'd like. Are you strong as a couple in conversation, sensuality, sports or hobbies? Leverage that to think of a gift.
Start with your strength as a couple, make it unique and surprise her, execute on the giving with some thoughtfulness, don't make it sexual unless that's already a positive feedback loop in your relationship, and focus on affection.
So HOW do you come up with a gift that's going to really make her happy?
One way is to "run a menu" as Dr. Patti teaches. As with sexual offers, starting small and offering variety works incredibly well for women.  You could say something like this:
"For a special gift today, would you prefer to:
Take a picnic basket to a romantic spot?
Take a bubble bath together by candlelight?
Play a "love game" together?"
Or if you want to have a tangible present ready you can use some of these Free Love Gift Ideas:
A card* that lists 3 things you love about her:
*    Pretty – your smile lights up the room
*    Smart – impressed with our work in the world
*    Amazing – how you bring love to so many
Write something like, "I feel the intimacy or connection is good, strong and special between us."
A card can be bought, handmade or made on your computer. It's particularly nice for her when you make a card with a photo of the two of you.
Other Free Love ideas: (post your idea below to share)
Make her a playlist of music or free podcasts she might like
Write her a poem or make her 20 words that describe her:   Stunning, vivacious, enriching, Goddess, silky, voluptuous, savvy, sassy, illuminating, graceful, intriguing, rockstar, babelicious, scrumptious are words that resonate well with women.
Offer a Yoni massage with organic coconut oil with no reciprocation expected
Go parking and have a hot make out with a city lights or natural view
Give her a feather duster or silk scarf (nominal cost and worth it)
What not to do – don't give her coupons for chores or do work as a present. It's bargaining – for sex or love. HoneyDo's are for another time. This is the time for ROMANCE.
Another sweet idea is to offer to play a Love Game with her. Scheduling time for an Intimate (or Erotic) Play Date can get her really excited.
Love Games
Click on the names to learn how to play these easy and fun games.
Hug Kiss Stroke Game (How do you like it?)
Fishbowl Fantasy
3 Things I Love About You
If you have any ideas to add or share, please do in the comments section below.
With love,
Sloane Fox