For the last five years, a couple of times a week, my husband and I have a session where he strokes and massages my genitals and brings me into a multi-orgasmic state for twenty minutes to an hour. We call this our "OMing practice."
We connect to each other energetically throughout this time – he feels me, I feel him. I feel him feeling me. He feels me feeling him feeling me. He strokes my thighs, my stomach, my labia, my clitoris, my G-Area and in doing so, takes me on an orgasmic journey.
This is our meditation practice. Yes, me having orgasms is our meditation. We do it together. It's a joint endeavor where we are both focused on this and nothing else.
There's no assumption that it will turn into sex.
We just share the ride, feel together, expand my sensation and his.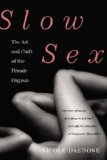 Nicole Daedone, creator of OneTaste, an organization devoted to Orgasmic Meditation (OM) is one of our teachers. We learned the OneTaste way of OMing as the foundation of our practice years ago and continue it to this day.
Now Nicole has written a thoroughly well-organized and detailed overview of the OneTaste style of expanded orgasm in her new book, Slow Sex.
Slow Sex is an EXCELLENT book for many reasons:
It teaches you the exact techniques to do a OneTaste-style OM
It explains what's in it for men and what's in it for women
It explains the rules of engagement for a OneTaste OM
It includes an OM for a man's penis, not just for a woman
It explains how once you turn a woman on, her whole life can be lived in turn-on and why that is a life changing possibility for YOU
I live my life in orgasm, in turn-on.
I am besotted with life. Heady with my potential and excitement. I feel wonderful. I'm deeply connected to my humanity. I love my body and its capabilities. I deeply appreciate how OMing has made my sex life incredible. And most importantly, I appreciate how deeply intimate and connected I am to my OMing partner, my husband.
And you can have all this too.
"Orgasm is the body's ability to receive and respond to pleasure." — Nicole Daedone
Nicole underscores the importance of Slow Sex by describing how this focused attention on feeling the sensations derived from this clitoral stroking technique will make your body come alive with pleasure. And that pleasure will spill over into all aspects of your life.
How to OM is a great chapter that offers tremendous clarity and instruction.
The Ten-Day OM Starter Program is a solid beginning for the most simple OMing practice.
And where the book really shines is in Nicole's description of The Four Month Orgasm. Which is essentially "living in turn-on." That's where your OMing practice helps you feel your desire and ask for what you want – the strokes you want, the sensation your body wants to feel…
And the learning to speak and follow your desire spills over into the rest of your life in a way that empowers you as a woman to follow your passions, to pursue the things for which you long, to feel a hunger for life in a way that when you are not awakened in your body, you are anesthetized to the sheer joy of living.
The "Four Months" moniker is a Trojan horse. Once you are a turned-on woman, feeling life not just through your brain, but through your body, your world transforms into a richness that's indescribable. "Four Months" just makes it approachable to anyone who hasn't yet achieved this state of being and might like to. Trust me, living orgasmically goes on forever and keeps getting better.
Desire As Your Compass
[excerpt from Slow Sex]

The key to having a lifelong orgasm is not OM, exactly. OM is just the rehearsal; it's where we learn the music, build the muscle memory, develop the habits that will support us when we get onstage. It's where we practice for the main performance: life. Life, including "regular: sex, and male-female relationship, and everything else we do. The habits we form through OM — habits of receptivity, appreciation, awareness, true intimacy — are 180 degrees opposite from the habits that rule our conventional world.

So learning to make them our default setting stakes practice. It takes great attention and precision to choose subtraction — simplicity — in a culture that hawks addition at every turn. It takes repetition to learn how to pay attention enough to feel sensation in the body, to experience turn-on as it rises, crests and carries us. And it takes a practiced willingness to feel what you want and then be vulnerable, intimate, and open enough to ask for it, come what may.

It takes all those things, yes, but it takes one thing more.

When it gets down to it, there must a a willingness to change your navigation device. We tend to navigate our lives using signposts set up for us by the world — norms, expectations, shoulds and should nots. If you want a lifelong orgasm, you have to let go of the comfort of being told what to do by the outside world and start looking for direction within. You have to start charting your own course, using your own compass. That compass is your own desire.

— Nicole Dadeone
I cannot recommend this book highly enough. Yes, it will rewire your body and brain. Yes, it's well-written and you can follow it to try this at home. Yes, it's a fun read even if you decide the practice is not right for you.
I give Slow Sex a double dog-eared thumbs up!
Note: Dr. Patti Taylor is our other mentor and we publish her online training program, Expand Her Orgasm Tonight: 21-Day Program for Partners.
(Expanded orgasm, deliberate orgasm, extended massive orgasm, orgasmic meditation are all names you'll see used to describe various approaches to this practice which originated by Victor Barranco at Morehouse University in Lafayette, CA in the 70's – Patti and Nicole are both descendants of the original teachers.)
With love,
Sloane Fox
Click image below to download our FREE eBook and learn how to give her expanded orgasms.