Expanded Orgasm Gear: Perfect Pants for Him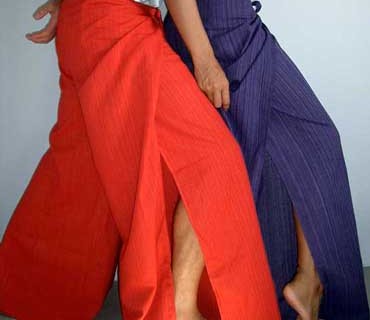 Our Expanded Orgasm "DO Date" sessions last from 30-45 minutes and since I'm most comfortable naked, hubby wears Thai Wrap Yoga Pants so that the hair on his legs don't scratch me while he's stroking me.
When you have a DO Date, the man sits perpendicular to the woman.
He positions his leg over her stomach. If his leg hair is scratchy or tickly, it can take her out of her trance state. These pants are soft, give her some covering and are very comfortable for the guy.
We love them! The rayon ones are particularly soft. The silk tends to be more stiff, as does the cotton.
We get them on eBay for less than $20 bucks.
Search the phrase "Thai Tie Dye Wrap Yoga Pants Rayon" to get the softest ones.
You may end up living in these!
With love,
Sloane Fox