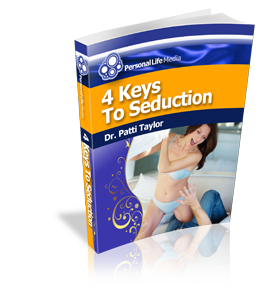 Seduce Her Tonight: Seduction Strategies for Getting Her to YES!
Dr. Patricia Taylor, creator of Expand Her Orgasm Tonight, Seduce Her Tonight: Sex Life
Strategies for Getting to Yes, Seduction Accelerator: The Most Turn-On and Hottest Sex
and Her Sexual Trainer: Unlock Her Most Intense Sensual Responses
Dr. Patti walks you confidently through the simple, repeatable magic steps to increasing
your woman's arousal and helping her move into new, sexy experiences with you.
The master lover is an "arousal manager."
First, understand the physiological basis of arousal – it's tied to her anger, being shut down
or over-eating, amazingly. Then learn to take her from negative or neutral to aroused
with the Four Keys of Seduction: Small Offers, Erotic Vigilance, Vulnerability and Vision.
These keys move her from a stuck place to a wide-open sexual realm.
A woman wants four things from you:
Your presence
Your attention
To talk about feelings
To feel turn-on
When you are present to her, you can give her Small Offers, which create a string of
yeses that open her. When you put your attention on her you can use Erotic Vigilance.
When you are Vulnerable, you are talking about feelings. And when you provide Vision,
or sexual leadership, you help her feel turn-on.
The Four Keys to Seduction are tied to what she wants. Learn these simple techniques
and you will be ready to become Her Sexual Trainer. Soon, she will want you to lead her
into new realms of erotic sensation and connection.

Please login or register for Revive Her Drive to view this content.