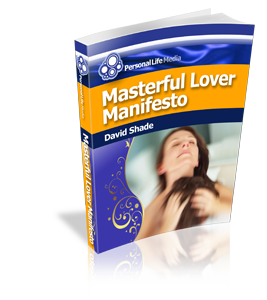 The Hallmarks of A Masterful Lover
David Shade, America's renegade sex expert and creator of Give Women Screaming Orgasms,
Hot Phone Sex and Select Women Wisely.
If you want to be a truly masterful lover, you will need to shore up five key areas of your life:
1) Yourself
2) Your Limiting Beliefs
3) The Women You Choose
4) Sexual Knowledge
5) Leadership Ability
Do you want "carefree, uninhibited, ruthlessly sexual experiences" without her having any
concern about being a "slut?"
In this double segment, David will walk you through every attribute of a masterful lover.
Command respect and hold empowering beliefs. Make certain you give the women in your life
the FOUR things they require to be seduced by you. Then entrain them to be sexually
responsive to you.
Learn how to select women wisely and then know what you need to do FIRST sexually, so
you can do your job, which is to oblige her need for really good sex.
David takes off the gloves and gives it to you. WHAM! He tells you in no uncertain
terms, what you are doing wrong; what you need to learn; the sexual techniques you must
know. And most importantly, how to be the leader she wants you to be so she can surrender
to her sexuality.
There has NEVER been an interview this good with David Shade.
He connects all the dots from a dozen years of deconstructing sexuality in minute detail,
turning into step-by-step directions you can follow. He tells you exactly what you need to
do to step up to be THAT MAN, who gets the good woman, and has what he calls "carefree,
uninhibited, ruthlessly sexual experiences" with her without her having any concern about
being a slut.
Want to be THAT man?
Oh yes you do.
And David tells you how.

Please login or register for Revive Her Drive to view this content.