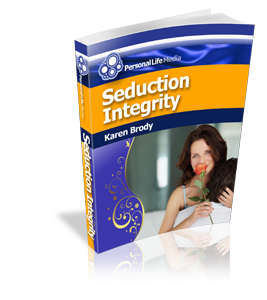 Seducing With Integrity
Karen Brody, "The Love and Intimacy Coach," teaches men how to connect with women for
deeply satisfying sex and love. Karen is an expert on the topic of "positive seduction" that
teaches men how to be magnetic and irresistible to women, and to overcome the obstacles
to your deepest "dance" in bed and in love. Her programs include Private Coaching, Seduction
Secrets 101, Get Her and Keep Her, and Why Women Say NO!
Some men have a view of seduction that limits their success and having a more expanded
viewpoint empowers a man feel less at the mercy of women, less like a strategist, and more
of a master of his sexual experience. He might find himself enjoying sex more and having
more sex — because women are more responsive and more appreciative of what he brings.
Most men are stuck in the "first steps" stage of seduction. They do what they think they
need to do to succeed and get sex —using hit and miss tactics instead of this information
to be successful and consistent at seducing women in the way a woman want to be seduced.
Seduction is an ongoing, ever-deepening engagement with a woman that gets you more
and better sex as your skill and know- how increase. There are two types of seducing with
integrity and they contribute toward being masterful at seduction. Integrity is the frame.
Seduction is the picture. A man can access his power and double or triple his success with
women, by operating from integrity.
Women crave men who are confident – who have integrity, their business and relationships
in order. They crave a man who can take them somewhere in mind, body, heart. Find out
the 3 deadly mistakes that kill a woman's sexual interest in you in a relationship.

Please login or register for Revive Her Drive to view this content.