I'm sharing my deep-throat exploration because it's an interesting story.
This is new to me – I evolved from hating to give hubby head to wanting to have him in my mouth. Then I began experiencing orgasms from having his penis stroke deep down my throat.
If you want to experience great head, start by using the Oral Fixation method:
"Oral Fixation: The Simple Secrets Of Getting My Wife, Girlfriend or ANY Woman To Love Giving Me A Blow Job"
(Like thousands of guys have already.)
My Deep Throat Exploration Story
Turn On…Fellatio vs. Irrumatio…Viscous Saliva…Pussy Ninja Move…Throatgasm…Oral Fixation
My turn-on is very high because I've been having a lot of sex. I'm in a massive growth curve in my personal sexuality on many fronts, which you know if you've been reading my emails and blogs.
One day on a hike, my girlfriend asked me if I ever had orgasms when I took my husband's penis deep into my throat. I hadn't even tried deep-throating and dismissed the idea.
Until a year or so later when I'd discovered that I got off on fellatio… The more I did it, the better it felt, the more relaxed I got and the deeper I wanted his cock. Then I remembered what my girlfriend was telling me — that she could orgasm from her boyfriend's penis stroking her throat below the epiglottal sphincter. That's the throat opening you close when you swallow – the portal between your mouth and throat.
I noticed a more viscous spit would form deep in my throat if I just took my time and enjoyed the sensations. Hub's cock naturally slid deeper and I got pleasure just being so connected and intimate with him.
It was fellatio too, not irrumatio, which is when then man controls the movement. I was in control, so I could manage the speed and depth and my gag reflex.
Speaking of gag reflex, with practice, gagging becomes less frequent and less intense and I think there's a connection between the contraction from gagging and the orgasmic contraction. It's merely conjecture, but I'm looking for information about that connection if you know of anything.
What I notice is that if I gag, when my lover is deep in my throat, if I'm turned on enough, I actually orgasm. It's a spasm that is somehow connected.
When I read Sheri Winston's book, Female Anatomy of Arousal: Secret Maps to Buried Pleasure (read this book!) I learned about the Hollow Flute or alimentary system, which is essentially our digestive system from our throat to our anus (including our vagina) and how it's a series of sphincter muscles that are like drawstrings. The sphincters are controlled by your brain and they open and close together.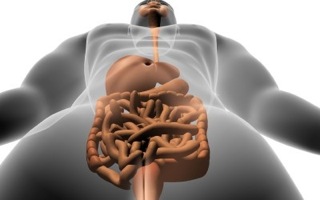 The Hollow Flute, the Inner Flute and the Bamboo Flute have all been used by Tantric sex experts to describe the connection between the mouth, the vagina and the anus – when you want to open the bottom, open the top. (Read my Pussy Ninja Move for more information on how to open yourself.)
By getting aroused and opening your epiglottal sphincter,  you can get a penis further in your throat, which feels even more pleasurable. A few of my girlfriends and I conjecture that there's erectile tissue in your throat on the sides just below the epiglottis. Perhaps that's why deep-throating causes orgasms? Maybe Linda Lovelace's doctor was right?
Deep Throat Exploration Recap:
If you can help your woman get very turned on, she will enjoy all forms of oral sex more.
Fellatio is different than irrumatio and is based on who controls the movement.
There is a more viscous saliva that your body produces to make the experience smoother.
By using breathwork, making deep moaning sexual sounds and by actually focusing on opening her throat, she can more easily accommodate the head of your penis in her throat. (Pussy Ninja Move)
Stroking the tip of your penis in her throat may cause her to orgasm as it has for me.
If you want to get started down this amazing path of deep-throat exploration, start with Oral Fixation as the way to enter into the conversation and position yourself as a man whose cock should be sucked.
If all of this BJ talk is getting you excited, here's a testimonial from Mike Fiore's Oral Fixation program which I'm recommending to you.
"Transformed Our Sexual Relationship in One Weekend"
"My current GF happens to fall into the category of, "I don't like to go down on guys."

I've tried to shrug it off for the most part… but come on I love getting a BJ every now and then (really all the time), especially when I do my part of going down on her.

Regardless, after going through Michael's material I was blown away.

The simplicity of the system, and the step-by-step approach completely makes sense. While my woman is still in the reprogramming stage so to speak, one of points mentioned in the guide was alone was this for me. I'm in particular referring to "What Do You Want Me To Do To You?" game. This by far has transformed our sexual relationship in one weekend!

In a nutshell this is a must read for all guys, as it's sure to transform your relationship as a whole (and of course at the same time satisfying your BJ urges)."

— Frank Shah
Note: I didn't go into positions or sucking techniques in this blog post because that information, unlike the unique information I shared with you above, is readily available online.
With love,
Sloane Fox