Steve P. D'Amore is a teacher of Sensual Enhancement Massage to awaken and release powerful female orgasms.
Essentially he does a full body, deep tissue massage on a woman to get her body open, relaxed but enlivened and sensually aroused.
Then he shows a dozen hand and finger stroking techniques he does inside her vagina to bring her to more powerful, ejaculatory orgasms after he's massaged her whole body, releasing areas of stuck energy that are preventing her from full mobility and orgasmic "discharge."
Hubby and I have been practicing Expanded Orgasm for over 5 years now. We learned from Dr. Patti Taylor who teaches this clitoral stroking multi-orgasmic technique in her Expand Her Orgasm Tonight program. Before we start stroking, hubby gives me a sensual massage to bring blood to the area and relax me before we head up into our orgasmic stratosphere.
So I thought I knew a thing or two about sensual massage…
Well!
Steve P. D'Amore takes sensual massage to a whole new level!
He does FULL BODY release, using multiple masseurs on a single woman in this DVD series.
Nutshell? You get to watch a woman being sensually massaged by three people who then bring her to the most delicious, ejaculatory orgasms! What could be more fun, more sexy, more eye-opening?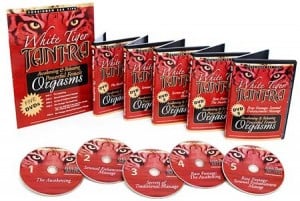 You get to listen to him describe what he's doing, as he's doing it.
The end result is that the woman in the movie has fantastic ejaculatory releases. Yum. I sure love that!
In the first part Steve walks you through the steps you need to know to release these powerful orgasms. The illustrations of the hand movements and how you stimulate her internally are excellent.
There are a dozen hand movements outlined, some of which we knew, a few of which are brand new and we'll add to our stroking library.
(Note: It's especially excellent when a lover has a lot of different strokes he can give you. The more the better, so you can see what your body responds to best during the lovemaking or stroking process.)
Once you experience the hand movements, you get to see a real woman's first experience having an orgasm. Not just an orgasm, an amazing, gushing, exploding, full body release.
In the second DVD, you get to see how specific massage techniques are used to release tension from her whole body. Steve has two helpers, female friends of the woman being massaged, and he shows them many techniques that help him get her fully released and ready.
In the third DVD he coaches you on insider massage secrets so that when you try these orgasmic strokes, she'll be totally comfortable and able to let go into the experience. It's a set up of instructions for good general massage practices.  If you haven't been professionally trained as a masseuse, there is a wealth of excellent advice here.
The fourth and fifth DVD's have more raw footage, an interview with a woman who frankly, isn't terribly articulate. I think she had too many orgasms to effectively communicate! But once you're hooked on the whole Steve abbondonza, you want to watch every single frame of video, lapping it up like ice cream.
The only criticism I have, and it's actually more a recommendation, is this.
The way Steve demonstrates his massage and orgasmic stroking is done very quickly. He only has so much time to demonstrate the full experience to you, so it feels rushed.
I'd recommend that when you try this with your lover, you go at about 10% the speed Steve does.
Slow it waaaaay down, luxuriate in the whole experience, rather than looking at it as something you want to DO or get done. Release goals and ride the experience together, keeping your communicating flowing.
He's an expert. He has thousands of hours of experience. He's taken years to develop his techniques. Don't try to model his pace. Use a slower, very mindful tempo, making sure that you have a plan for every stroke you deliver. Put your full attention on each stroke. And give yourself TIME to learn and become proficient.
If you do, you will have a line of women waiting for you, willingly surrendering their bodies to your expert hands.
Buy this video set. It's completely unique. Very unusual. Fascinating. Great wisdom is imparted. Steve P D'Amore can artfully guide you through a very powerful, opening, sensual experience with your woman.
And if you are a woman who would like to have this done for you, he does take clients, so contact him. [Email info at schoolofstevep.com] He's trust-worthy and this is his life's mission. You'll be in good hands and the orgasmic experiences you'll have will change your life for the better. You'll literally become another, entirely different woman. Your body will go through a metamorphosis at a cellular level.
I'll report back on our progress.
Now you go and enjoy! And let me know what you think when you watch.
White Tiger Tantra DVD's are the perfect Saturday night date – watch the videos on Thursday and Friday and then practice together on Saturday.
Can't wait to hear your comments.
Download our FREE eBook now to learn more about expanded orgasms.